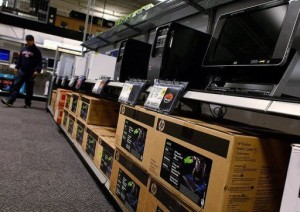 According to a new report from IDC, the number of PC shipments in the EMEA region continued to contract in Q4 2012, showing a decline of 10.7% compared to the same quarter last year.
Weaknesses in consumer demand and budget constraints in the commercial segment were cited as the main reasons for the contraction, which came in line with IDC expectations.
The total number of PC sales in the EMEA region came to 105.6 million units for the full year 2012, showing a decline of 1.6% compared with 2011. Portable PC shipments declined by -0.8% in 2012, and desktops declined by -2.9%, IDC said.
"As expected, PC sales remained constrained across EMEA in Q4 2012 as consumer demand concentrated further on tablets during the holiday season, and despite the launch of Windows 8 and new designs which did not provide the hoped upturn effect," said Maciej Gornicki, Senior Research Analyst, IDC EMEA Personal Computing.
"As a result, notebook sales continued to display negative trends in the last quarter of the year, with a decline by 12.8% of portable PC shipments in EMEA in Q4 2012."
According to IDC, tablets continued to act as a disrupting factor in Q4 2012, while both consumer and commercial markets have been affected by macro-economic conditions. This has led to a shrinking disposable income among consumers and tighter budgets for business investments. The public sector across most countries also remained under pressure, with most announcing further cuts and austerity measures, adversely affecting PC demand, IDC said.
"Retailers and distributors across the region remained cautious when taking new orders in order to avoid any inventory build-up fearing weak consumer sales during Christmas and anticipating on Windows 8 transition," said Chrystelle Labesque, Research Manager, IDC EMEA Personal Computing.
Despite the transition to Windows 8 was well anticipated by the channel and industry in Q3 2012, the uptake was slow, IDC said. Limited offering on the shelves also contributed to the slow uptake, according to the report. And despite new hybrid designs and touch models generated strong interest, high price points remained a major inhibitor for larger volume uptake.
"The PC market in the Central and Eastern Europe, the Middle East and Africa (CEMA) region reported an overall decline of 8% year-on-year in Q4 2012," said Stefania Lorenz, Research Director, IDC CEMA, who added that the Middle East and Africa was in a slightly better position with a -1% year-on-year decline.
Lorenz did say, however, the demand in the MEA's notebook segment has been slow due to the popularity of tablets in the region.
In terms of the top vendors, HP consolidated its leadership in EMEA, regaining a significant share in the Middle East, IDC said. Lenovo was ranked second in EMEA overall, with Acer slipping to third place. Asus kept its fourth-place standing in the market, despite a double-digit decline in shipments, and Dell maintained its position in fifth place, recording a weak Q4 2012.
Below the top five, Samsung was ranked sixth overall and Toshiba maintained is seventh position, making the most of slow consumer market decisions, according to IDC. Apple suffered from supply constraints, and Sony declined by -15.5%, which was a direct result of slow consumer demand overall. Fujitsu, meanwhile, saw a -15.1% decline in shipments.