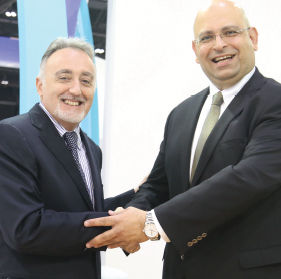 At GITEX 2015, Unify Communications has signed up with value-added distributor Mindware to deliver the company's Unified Communication solutions across the region.
Bashar Bashaireh, Vice President, Middle East, Unify, says, "The partnership adds value to the portfolios of both parties. By joining forces, we can deliver a complete and comprehensive added-value proposition to the market place. It is our global strategy to ensure channel embraces UC technologies more.
"We are in a position to leverage the channel network that Mindware has in the Middle East. Our aim is to have a bigger penetration for Unified Communication applications across the different verticals and across the different market segments, whether it is large enterprises or the SMB segment."
Mario Gay, General Manager, Mindware says, "The go-to-market strategy is very simple, it is going to be a solution that can be implemented from an enterprise level to the SMB level. As Unify's distributor partner, we will be offering our value-added services such as pre-sales, channel, trading capabilities to integrate and instruct the channel to create the demand for the technology."
Bashaireh says that the distributor's portfolio of leading technologies also adds value and complements its offerings.
"Mindware enjoys a reputable presence in the market and that's why they have an extensive network around multiple countries in the region. To empower channel, you need ease of doing business, which Mindware brings on the table and additionally you need reliable technologies, which is what we are offering from Unify. Combined together – reliable products, good technology and ease of business are the key elements that the market is looking for," he adds.
As a value-added distributor, Mindware's key objective is to simplify solutions around the technology. As Unified Communications is a growing segment, it is necessary to bring in the right solutions into this space.
The distributor has launched 'Mindware Academy' at GITEX this year, with the aim to not only do product trainings but also to create synergies across the products.
"Unify will be part of the Mindware Academy and also will be part of the integration process," says Gay.
Over the next few months, we will see the distributor beginning its channel recruitment drive, which will be focused on countires where it has a local presence such as UAE, KSA, Kuwait, Qatar and Lebanon.
"We will bring in the new channel programme of Unify and go to the two-tier model and ensure that partners are excited about the products in the next couple of months."