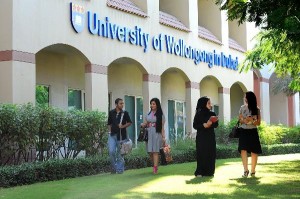 The University of Wollongong Dubai (UOWD) announced today that it has selected Dell to implement end-user computing solutions for UOWD, designed to deliver best-in-class services to its students and faculty.
Through Dell's virtual desktop infrastructure solution, academic information, such as e-books, lecture notes, and class schedules, that were once only available on desktops in UOWD's computer labs are now available to students and faculty anywhere on campus from any device at any time, UOWD representatives said.
Plans for secure, remote off-campus access to academic information are already in progress.  In addition, Dell's virtualised desktop solution increases the amount of compute power that faculty and students can utilise, they added.
Designed to securely increase productivity, communication and information access for UOWD's community, while reducing cost and complexity, the virtualised solution allows organisations like UOWD to adapt to changing dynamics in education and technology, while enabling technology resources in a more rapid and cost-effective manner, Dell said.  For example, UOWD is able to provision technology resources to faculty and students working on research projects that require large amounts of compute power more rapidly and economically than previously possible.
The Dell desktop virtualisation solution is easily scalable to quickly accommodate changing classes and curricula, as well as increasing UOWD's ability to more rapidly respond to security threats, install new technologies and upgrade old ones, resulting in an improved technology experience for students and faculty alike, Dell representatives added.  The solution also lays the foundation for UOWD to develop its own private cloud, UOWD said.
"Through virtualisation, UOWD will be able to maximise the efficiency of its assets and students will get a virtual private lounge that allows access to applications from anywhere. We are delighted to partner with Dell to migrate from a traditional computer environment to a virtualized desktop and the cloud to improve the quality of academic life for the university community.  In addition, we are the first UOW campus to implement this technology, and we are piloting it for the UOW's Australian campus," said Joseph Aninias, IT manager, University of Wollongong in Dubai.
'This is the first live and in production virtual desktop solution in the UAE. Academic environments have high demands and limited resources, and need an affordable, reliable and efficient way to improve and manage their infrastructures,' said Dave Brooke, Dell Middle East Commercial GM.  'Dell listened to the University's exact requirements and by providing assessment, design, implementation and project management services, as well as tailored  solutions, this allowed us to exceed their expectations. Our end-to-end service has provided them with the open, capable and affordable learning environment they need to succeed.'