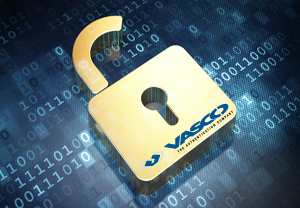 VASCO Data Security International, today launches a competitive replacement campaign called "Break The Chains" directed towards businesses in Europe, the Middle-East and Africa that decide to migrate to a VASCO authentication solution.
Effective immediately, companies receive a competitive discount up to 50 percent on the recommended list price for a qualified trade in. The replacement programme allows organisations in the EMEA region to take advantage of the most flexible and wide range of authentication solutions available in the market today.
VASCO offers authentication solutions for enterprises and SMEs to secure access to SSL/VPN, extranet, Windows and even online applications with DIGIPASS hardware or software authenticators.
The offering yields following benefits:
A 40% discount on all server software, software authenticators and maintenance
A 50% discount on a wide choice of (customisable) hardware client devices. DIGIPASS hardware devices have a battery lifetime expectancy of up to 7 years
A back-up authentication solution through SMS with Virtual DIGIPASS is included. In case of token loss, continuity of service is guaranteed
Easy transition of deployment thanks to VASCO Certified Partners and in-house Security Competence Centre
Authentication, electronic- and digital signature functionality are  supported on one single platform enhancing flexibility
Centralised IDENTIKEY Authentication Server with web-based administration interface includes self-management of user database and customisable reporting functions
Mobile authentication offering attuned to enterprise needs with DIGIPASS for Mobile Enterprise Security Edition. Secure provisioning services to handle distribution and logistics process are included. The solution does not require an SMS gateway setup or maintenance of download servers
VASCO has successfully replaced and upgraded many vendors' solutions and offers strong value to customers needing an alternative authentication solution tuned to their specific needs. With a proven experience in banking level security and large deployments worldwide, certified partners, extensive training programs, an elaborate support offering and a widespread channel network, VASCO can help organisations with a swift migration to a flexible, cost-effective and performance-enhanced authentication solution.
Together with a well-equipped network of distributors and resellers across Europe and the Middle East, VASCO brings customers an added value through market knowledge and systems integration expertise. To sustain the competitive replacement campaign, VASCO's distributors and resellers can request a free mobile starter pack for 5 users.