Dubai, UAE, VeeamON 2021, May 26, 2021: Veeam Software, a company that has been leading innovation in data centre backup and recovery solutions, is currently hosting its annual user event, VeeamON 2021. Over the course of the event, the vendor will unveil what it sees as the future of modern data protection and give the world a glimpse into its roadmap and strategy for delivering the most advanced data protection solutions for cloud, virtual, SaaS, Kubernetes and physical workloads. Modern Data Protection, defined by Veeam, provides a single platform for data resiliency to protect every workload, access all platforms with a single experience, reduce operational costs, and ensure guaranteed recovery.
VeeamON is Veeam's global user and partner conference connecting IT visionaries, tech trainers and cloud data experts to discover what's next in Modern Data Protection. Now in its seventh year, this annual experience brings together over 30,000 registered attendees from 175 countries – technology leaders and practitioners from CTOs and CISOs to IT managers, tech trainers and cloud data experts of all kinds – for two days of learning, networking and inspiration. The conference program focuses on three themes: Cloud Acceleration (AWS, Azure, Google), Ransomware, and Cybersecurity and Kubernetes.
The company's phenomenal growth since it's inception over a decade ago has seen it reach a milestone of one million active installations of Veeam Backup & Replication (the product is now the most widely deployed Enterprise backup software in the world – more than several of its competitors combined), more than 15 million Microsoft 365 mailboxes protected, and a customer base of 400,000, which is indeed remarkable!
Veeam credits its growth to being software-defined, hardware-agnostic, cloud-ready and flexible. In addition to 83 primary storage arrays and 85 secondary storage systems, Veeam has officially validated support for 37 object storage systems, 12 of which are immutable – including support across all three hyper-scalers (AWS, Azure and Google Cloud Storage) and available in all 3 respective marketplaces. Veeam boasts more than 1EB of data protected with object storage in just the past 2 years.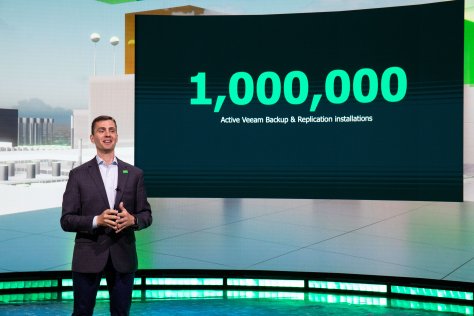 "Veeam is the largest storage company that's not making storage or infrastructure, and is by far the #1 pure play data protection vendor on the planet", said Danny Allan, CTO and SVP Product Strategy at Veeam. "We moved more than 100 PB of data into our top three cloud object storage providers alone in just the first quarter of 2021, compared to 242 PB in all of 2020, and we recently surpassed 1 million active Veeam Backup & Replication installations. The movement of data into cloud and expanding cloud data management is accelerating. Data storage in the cloud is just one of the engines that is driving massive growth at Veeam. And the way we've built and evolved our single platform for Modern Data Protection – to be simple, flexible, reliable and powerful – continues our solid reputation of the being the industry standard and providing the highest level of value to customers. Over the next two days, VeeamON attendees will not only hear about how they can leverage our solutions to advance their data protection strategies, but will also see a glimpse into the future. We delivered more than 20 new products and major product updates over the last 18 months, but there is so much more to come".
As part of the unveiling of its product roadmap, the company announced key innovations of cloud-native solutions for AWS, Microsoft Azure, Google Cloud, Microsoft Office 365 and the first integration of Kasten K10 for Kubernetes into Veeam Platform. These will be due in the second half of 2021.
"Over the past 18 months, Veeam enjoyed its most prolific product launch period, bringing to market more than 20 new offerings such as Veeam V10 and V11, Veeam Backup for Google Cloud, updates for Veeam Backup for Microsoft Azure, AWS & Microsoft Office 365 and many, many more", said Danny Allan, CTO & SVP, Product Strategy at Veeam. "We are continually innovating and know customers are looking to protect their data across multi-cloud environments; with Veeam's single platform we are helping our customers ensure that every piece of data, every workload is safe, secure and easily recoverable no matter where they reside.  We are proud of our success, and that we are now #2 in the market, and we know that this is just the tip of the iceberg".
"With these demonstrations [at VeeamON], we are upping the ante for Modern Data Protection, ensuring our customers can protect ALL workloads across ALL environments; Veeam continues to set the standard for the industry", added Allan. "Veeam has proven itself to be in tune with customer needs – the feedback we have received for V11 proves that – and I am confident with these new solutions coming to market later this year, we'll yet again deliver on what our 400,000+ customers require and help them drive their digital transformation journeys", he concluded.
All solutions demonstrated at VeeamON will be generally available later in 2021. For more information, please visit www.veeam.com and VeeamON 2021.