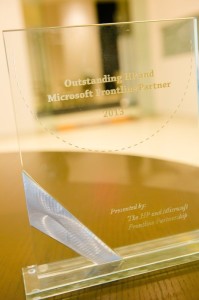 Visionaire has been chosen by HP and Microsoft as an Outstanding Partner for the Year 2013 for the HP and Microsoft Frontline Partnership for Unified Communications & Collaboration.
Visionaire is a Microsoft Gold OEM and Gold Application Development partner, and also holds Professional Networking Gold Specialist partnership with HP to provide Unified Communications & Collaborative solutions to its customers. The company has been working closely with both Microsoft and HP for many years now and has led several successful implementations using HP and Microsoft platforms.
The worldwide HP and Microsoft Frontline Partnership (FLP) is a 20-year-old alliance that is unique in the industry. It ensures that Microsoft and HP products have been designed and engineered to work together and are supported by both companies. The FLP benefits small and medium-sized businesses through worldwide joint HP and Microsoft partner programs, also supported by both companies. The award ceremonies were held at the Microsoft Worldwide Partner Conference last month in Texas, USA.
Visionaire, as a joint partner, gain from the industry leadership and combined strength of both companies who have chosen each other's technology for long-term strategic investment.
"The HP and Microsoft FLP Partner Celebration that took place in Houston, Texas during Microsoft's WPC conference in July was our way of recognizing Visionaire  for the work they have done with their customers over the past year" stated Andrew Morlidge, Senior Director, Frontline Channel Partners, Microsoft.
Visionaire provides state of the art Audio Video solutions based on its proven TECHNOMICS best-of-breed systems integration model to a multiple customer base spanning different industry segments in education, government, hospitality and corporate institutions.
Expressing her happiness on being awarded Outstanding Frontline Partner of the Year, Aneeta Gupta, CEO at Visionaire, stated that "We are extremely glad to be recognized for our efforts and contribution to the industry. The Microsoft and HP Frontline Partnership allows us to consistently deliver unparalleled ROI and best in class TCO that works for customers today and tomorrow,"
Aneeta added, "In passage of time we have developed our best-of-breed systems integration model TECHNOMICS to offer cost effective solutions, which are supported by the relationships that we possess with our partners like HP and Microsoft to give us that added credibility, access and understanding."