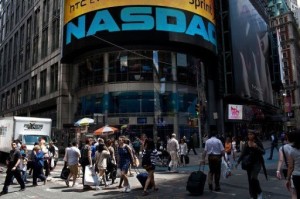 The Nasdaq computer index Friday hit its highest point since November 2000, in the wake of the dot-com bust, despite mixed reports this week from the hardware and components sector.
The Nasdaq computer index closed Friday at 1989.89, up 8.86 points for the day. Though analyst reports this week said PC and server sales continue to look grim, optimism about other aspects of the IT market and glimmers of good news about the economy in general boosted tech stocks and, more broadly, the major exchanges and indexes.
For example, the Dow Jones Industrial Average, which last week closed above 16,000 for the first time, rose 198.69 points Friday to close at 16,020. All four tech stocks included in the Dow – IBM, Microsoft, Cisco and Intel – rose for the day.
For PCs, however, the news is not good. PC shipments this year will decline by 10.1 percent to 349 million, its biggest year-over-year drop ever, IDC said.
"Perhaps the chief concern for future PC demand is a lack of reasons to replace an older system," said IDC analyst Jay Chou in the report. "The PC still remains the primary computing device – for example, PCs are used more hours per day than tablets or phones – PC usage is nonetheless declining each year as more devices become available. And despite industry efforts, PC usage has not moved significantly beyond consumption and productivity tasks to differentiate PCs from other devices. As a result, PC lifespans continue to increase, thereby limiting market growth."
Server sales are also weak, IDC said. In the third quarter, server unit shipments were flat year over year, with 2.3 million units shipped worldwide. Because demand for higher-end servers was weak, factory revenue for servers actually decreased 3.7 percent, to $12.1 billion, IDC said in its reportWednesday. The market research company held out hope for servers, however, saying that it expects the market to be bolstered by a round of server refreshes next year.
Despite headwinds working against the hardware market, worldwide semiconductor revenue will total $315.4 billion in 2013, a 5.2 percent increase year over year, according to preliminary results by Gartner. Though semiconductor sales for PCs slumped, memory sales and revenue from semiconductors for entry-level and midrange smartphones increased, Gartner said.
More and more consumers are using mobile phones for online commerce, noted Adobe in a report on so-called 'Cyber Monday', the Monday after the U.S. Thanksgiving holiday, which this year fell on Dec. 2. Online sales for the day increased by 16 percent year over year to $2.29 billion. A record 18.3 percent of sales came from mobile devices, an increase of 80 percent.
The strong stock market has helped boost initial public offerings, especially those for tech companies. The technology sector recorded 13 IPOs in the third quarter compared to 11 in the year-earlier period, according to the Global Technology IPO Review from PwC, issued Friday.
Total proceeds from tech IPOs were $1.3 billion, an 18 percent jump year-over-year. The figures don't include Twitter's IPO in November. Thanks in large part to the strong market for tech shares, tech IPOs should continue strongly for the current quarter.
The software sector, in particular, is expected to generate more of a revenue boost for tech this year than hardware, and that also plays into the IPO market.
"The strong IPO momentum coming out of the third quarter is primarily powered by the software sector, which continues to reign supreme both in terms of technology venture funding and technology IPOs," said Bryan McLaughlin, a partner with PwC. "In a volatile market, IPO investors welcome enterprises that deliver growth and predictability, and software, particularly SaaS models, have the ability to deliver on that value proposition."
Originally published on
IDG News Service (New York Bureau)
.
Click here to read the original story.
Reprinted with permission from
IDG.net
. Story copyright 2023 International Data Group. All rights reserved.