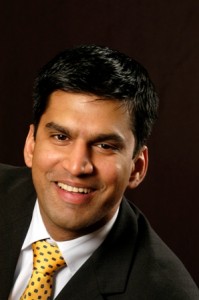 BT does not intend on competing with domestic players when it expands its services in the Middle East, says Ashish Gupta, president of portfolio & service design at BT Global Services.
Gupta was speaking after BT's announcement yesterday that the telecoms giant is doubling its investments in the Middle East to become the strongest global player in the region's telecoms sector.
"What we're talking about is the specific market segment that we serve, which is global multinationals or customers that need multi-country services and require IT infrastructure services for their business. We're not talking about providing broadband to consumers at home and we're not talking about mobile telephony here. We're talking about business IT services for IT businesses," Gupta said.
"We're not trying to compete with the domestic players in each of the markets, in fact in most countries we will partner with those providers, because clearly we don't have network assets that reach every single business premise. What we're talking about really is providing a set of services for global companies that will allow us to leverage those partnerships, leverage our assets and provide a global service," he added.
BT will invest in three major expansions in the region; extending its network infrastructure, offering a significantly larger portfolio of products, and hiring around 30 more staff.
Gupta said he believes BT will bring an international understanding to the Middle East telecoms market, as well as global opportunities for customers.
"We will bring a lot of professional knowledge and experience from serving customers globally. Our key USP is to provide global customers common, harmonic services right across the world. From a perspective of a CIO, they need to be able to standardise a set of SLAs and strategies around the world. It's not just about being able to help companies understand how others have done it, but help them on the journey of transforming the infrastructure they've got, and also leverage innovations we are developing on other parts of the world," Gupta said.
He added that BT listens to its customers when making any decisions, and this was a big decider in its Middle East expansion.
"All of our investments are customer led. We're making these investments, not because we think they are good ideas, but we can see from either our existing or prospective customers that they want to go to these countries, or they would like these services in the region.  It is a service-led strategy in that we start with these services the customer wants, rather than an infrastructure-led strategy which builds a network and then figures out how to do the services," Gupta said.
The key decider in BT's decision to expand, however, was the success it has seen in Asia from similar investments, Gupta said.
"If we look at Asia, which was an investment that we made just over a year ago, we have seen our sales increase 50% over that duration over the back of the investments we've made. We made similar announcements today in terms of our expectations for the region," he said.
"In 12 to 18 months we should have hopefully delivered the investments we talked about. We are hoping to be able to demonstrate, not through whether we've displaced others, but through pure performance – to be able to demonstrate similar benefits as we've seen in other parts of the world," he added.