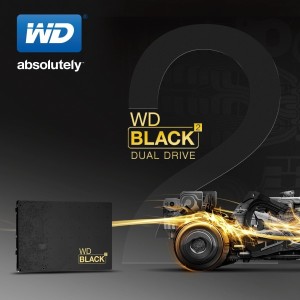 WD have announced the release of the WD Black2 dual drive, which fuses a 2.5-inch 120 GB solid state drive (SSD) with a 1 TB hard disk drive (HDD).
The drive connects through a single cable and fits into a conventional 9.5 mm slot.
"Our customers told us they like our Solid State Hybrid Drive technology, but our tech savvy users asked for more control of where they store their data," said Matt Rutledge, Senior Vice President, Storage Technology business unit, WD. "The WD Black2 dual drives empower our customers to enjoy SSD performance and access high capacity storage in a no-compromise package. The WD Black2 dual drive is a direct result of our interaction with our customer base through WD Labs initiatives. WD devised its beta labs program to provide an exclusive testing arena for key customers and technology influencers of existing and emerging WD storage products."
The dual drives offload data usage from the SSD to the HDD, which WD says can increase endurance and life of the SSD.
WD Black2 is free of caching algorithms and has SATA 6 Gb/second interface speed. It is packaged in a standard 9.5 mm, 2.5-inch form factor with legacy SATA connector, making the WD Black2 dual drive compatible with popular PC operating systems ranging from Windows XP to Windows 8.1.