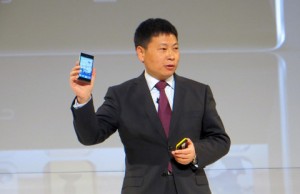 Huawei calls the Windows Phone platform weak despite using it as the foundation for some of the smartphones it makes.
"[Windows Phones] are weak but still require a licence fee," says Richard Yu, CEO of Huawei's consumer division, according to an interview in the Financial Times. "That's not good. Android is free."
Yu was speaking before the launch yesterday of a new Huawei smartphone – the Ascend P6 – in London.
Despite the shortcomings of Microsoft's phone platform, he says his company would consider buying Nokia – another vendor using Windows Phone 8 in its products – if it meant that Huawei stood a chance of becoming the largest smartphone manufacturer.
Taken together, the comments could add up to bad news for Microsoft because Nokia is the largest OEM of Windows Phones. If Huawei were to buy Nokia and it were to move away from Windows 8, that would choke off the largest source of Windows Phones, which, as Yu notes, "has a very small market share". IDC says that share was 3.2 percent in the first quarter of this year.
Yu may have been a bit mouthy in making the remarks. Later in the day Huawei's vice president for external affairs, Bill Plummer, told Reuters that Huawei has no plans to acquire Nokia.
Yu was quoted by the Financial Times as saying, "We are considering these sorts of acquisitions; maybe the combination has some synergies but depends on the willingness of Nokia. We are open-minded."
Huawei was number-four in smartphone sales in the first quarter of 2013 with 4.7 percent, behind Samsung (30.7 percent), Apple (17.8 percent) and LG (4.9 percent).
Most of the smartphones Huawei makes are Android. Android accounted for 75 percent of all smartphones shipped in in the first quarter this year.