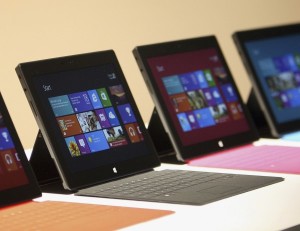 Windows' share of the tablet market grew slightly in the second quarter, as shipments also ticked up in the face of a slow-down by tablets overall, researcher IDC said today.
But the Redmond, Washington, company's innovative Surface line contributed just a fraction of that tally, showing just how difficult a task Microsoft has set for itself in transforming into a device builder and seller.
"The [OEM] partners who have been supporting Windows 8 continue to do so, which is good, and they're starting to make some traction," said Ryan Reith, an IDC analyst on the team that tracks tablet shipments. "But I would not call Surface a success by any means."
While all tablet shipments declined about 8 percent in the second quarter compared to the first, those powered by Windows grew by 11 percent over the same stretch, according to IDC estimates released Monday.
Shipments of Windows tablets – primarily Windows 8 but also a smattering of Windows RT – climbed from 1.8 million in the first quarter to 2 million in the second. That brought Windows tablets' share of the global market up to 4.5 percent from the 3.7 percent of the first quarter.
The big winners in the Windows tablet space were largely the OEMs, or "original equipment manufacturers," familiar to PC buyers, said Reith: Acer, Asus, Hewlett-Packard, Lenovo and Samsung. "HP had a good quarter with [Windows] tablets," he said. "Dell shipped around 120,000, which is growth for them, although it's such a small number compared to their traditional PC business."
Microsoft shipped about 300,000 Surface devices in the quarter – the Windows 8- and Intel-powered Surface Pro and the Windows RT- and ARM-reliant Surface RT – to account for about 15 percent of the Windows total. "Microsoft's portion was relatively small," noted Reith, who also cautioned that because IDC tracks shipments – tablets that come off factory lines – actual sales were undoubtedly smaller than that. "We're pretty certain the shipment numbers are high[er] than sell-through."
IDC estimated that Microsoft has shipped approximately 2.1 million Surface tablets of all kinds since the October 2012 debut of the Surface RT.
By comparison, Apple shipped nearly 57 million iPads in the last three quarters.
Microsoft has struggled to keep Surface afloat. Last month, the company wrote off $900 million to account for the steep discounts on the Surface RT needed to unload excess inventory. Days later, it revealed that all Surface sales had generated just $853 million, less than the charge against earnings, less than the increase in advertising attributed to Windows 8 and Surface.
The company clearly over-estimated demand for the Surface, and for Windows tablets in general. "There's still more of a push for Windows 8 than a demand," said Reith, talking about the operating system on all platforms, PCs as well as tablets. "Microsoft thought this was a short-term thing. That was wishful thinking." Only later, in early 2013, did executives at the Redmond company start talking about the long haul, he pointed out.
That has been Microsoft's refrain in 2013 – that it's in the tablet business, more generally in the "device" business, for the long term.
"But this is what we expected all along," Reith contended. "This is a transition of the form factor, and the Surface was a revolutionary product at the time of its launch. But the volume [of Windows tablet shipments] will go up. We think in 2014 Windows 8 will start to resonate with consumers."
Until then, Microsoft can only hang on and try to claw what it can from the tablet market.
Microsoft will have a tougher time getting consumers to pay attention to Windows tablets during the second half of the year as Apple, whose iPad sales slumped 14.1 percent and share fell 25 percent quarter-over-quarter, gears up for fall refreshes of its tablet line.
Included in that refresh, if analysts get their wish, will be a reduced-priced iPad Mini, either a discount on the existing model or a new device specially made for the lower-cost market.
"There's no question that the second half of the year will be strong overall for tablets," said Reith.
IDC expects that will be the case for Windows tablets as well. "Earlier this year, we estimated that 10 million Windows devices will ship in 2013, and that was with 2 million this quarter, which we think was met," said Reith. "That means nearly 70 percent will be back-half weighted."
If IDC's forecasts are accurate, Windows tablets will have accounted for approximately 4.3 percent of all shipments for the year.