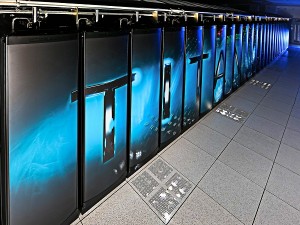 The world's fastest supercomputer, Titan, located at Oak Ridge National Laboratory (ORNL) in Tennessee, is deploying a new storage system from DataDirect Networks (DDN) to support its research into climate change impacts and alternative fuels.
DDN's SFA12K-40 storage appliance will form the backbone of a new storage system called Spider II, which is capable of ingesting, storing, processing and distributing research data at one terabyte per second – ten times faster than comparable scale-out NAS systems.
It is also designed with 40 petabytes of raw storage, which is enough to hold all the information in more than 227,000 miles of stacked books. This means that ORNL can dramatically increase Titan's computational efficiency and deliver more accurate predictive models than ever before.
The ORNL Spider II configuration from DDN includes 36 DDN SFA12K-40 systems (each with 1.12 petabytes of raw storage capacity), and 20,000 disk drives. It runs an open-source file system software called Lustre.
The combination of DDN's and ORNL's experience of scaling Lustre in production environments will enable Titan to perform approximately six times faster with three times the capacity of its predecessor, Spider.
"When building the world's fastest system for data-intensive computing, we carefully considered all aspects of high-throughput I/O infrastructure and how efficient storage platforms can complement our supercomputer's efficiency," said Buddy Bland, project director for the Oak Ridge Leadership Computing Facility at Oak Ridge National Laboratory.
"The ORNL and DDN teams have worked together to architect a file system designed to enhance the performance of our Titan supercomputer and enable our users to achieve unprecedented simulations and big data insights through massively scalable computing."
Titan was named the world's fastest supercomputer in November 2012, leapfrogging the previous champion, IBM's Sequoia. It runs 560,640 processors, including almost 300,000 AMD Opteron 6200 series cores and over 261,000 Nvidia K20x accelerator cores.
Titan is designed to deliver a peak capability of over 27,000 trillion calculations per second, or 27 petaflops. It is used to help develop more energy-efficient engines for vehicles, model climate change and research biofuels, and can also be rented to third parties.
"The world's toughest questions demand the toughest storage and the fastest technology to drive new levels of scientific insight," said Jean-Luc Chatelain, chief technology officer at DDN.
"We're honoured to continue our long-standing partnership with ORNL today and to be part of the future of big data and exascale computing tomorrow."