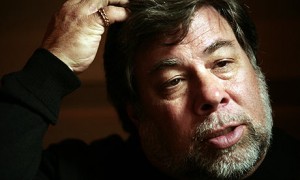 Apple is falling behind in the smartphone market with its iPhone, according to Apple co-founder Steve Wozniak, who thinks that the firm has allowed rivals such as Samsung to catch up.
In an interview with German magazine Wirtschafts Woche last week, Wozniak noted that he thinks that Apple is "somewhat behind" with the features of its iPhones in comparison to the rest of the smartphone business. "Others have caught up," he said. "Samsung is a great competitor. But precisely because they are currently making great products."
During the interview, Wozniak also discussed Apple's early days, including why he and fellow co-founder Steve Jobs decided on the company's name. "An apple is a positive connotation, is healthy," he said, referring to the proverb "An apple a day keeps the doctor away."
He said that they wanted to take the fear of computers away from people. "The name could not have been better."
Wozniak claimed that he and Steve Jobs made "the perfect team," and said that there were no major disputes between the pair about money, products, and marketing. "We at Apple always strived to make things not only different, but also better to develop the best products. We were young, creative people who wanted to do things differently. Especially not the way they were always done. We have won a lot of fans, many of whom are still loyal to us."
Wozniak reiterated that Apple has always been focused on profit rather than market share.
Wozniak said that, if he were to start up a new business today, he would focus on software, particularly speech recognition. "I love Siri," he said. "The handling is also getting better. But sometimes it is still hard to find the things that you really want to ask."
According to Wozniak, we will have to wait until October 2013, which will be the second anniversary of Job's death, in order to see the full impact that losing the Apple co-founder has had on the company. "It usually takes at least two years to come up with fresh things. I hope, however, that Apple has great managers who are guided in their decisions by the Apple culture of the past. I hope that the quest is always for the best products."
Finally, Wozniak commented on the reason he famously queues for hours outside Apple Stores with other customers in order to get his hands on new iPads and iPhones on launch day.
"The launch of a new Apple product is, for me, like a big, major concert in which you absolutely must attend personally," he said. "It's history. Sure, I could order online or call the store manager so that he smuggled me out the back door. But that would be nothing. No, I will have the experience like any normal customer. But one thing is certain – if Apple made lousy products, I would not be in line."