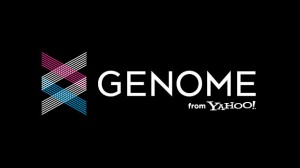 Yahoo today launched a new tool for online advertisers designed to take advantage of the company's extensive experience with big data analytics.
The tool, called Genome, is designed to help companies deliver more targeted online advertising and marketing campaigns. Genome is scheduled to become available in July and will let online advertisers sift through and analyse massive amounts of behavioral and advertising-related data gathered from Yahoo's networks as well as those of interclick, a company Yahoo acquired in December.
The tool will also let advertisers bring in their own data, mash it up with Yahoo's data sets and run analytics on the combination, Yahoo said in a statement.
"Genome is the culmination of a strategy that was put in place last year with the display ad agreement with Microsoft and AOL as well as the acquisition of interclick," Yahoo said. It will help "marketers organise and navigate the chaos of the data ecosystem while delivering results that can build brand value, increase conversion rates and grow revenue."
Yahoo's Genome announcement comes just a few weeks after Google touted BigQuery, a service that lets enterprises upload and analyse massive amounts of data on Google's cloud infrastructure. Google's service differs from Genome in that it is designed to let enterprises use Google infrastructure for analysing their own data sets for different applications. Genome is targeted specifically at marketers and will allow companies to leverage Yahoo's data sets in addition to their own.
Both Genome and BigQuery are a response to what analysts say is a growing need for technologies that can help companies manage and analyse the massive volumes of data resulting from trends such as cloud computing, mobile computing, social media and globalisation.
Over the past two years or so, scores of startups have emerged up with tools to help companies run business intelligence, data analytics and predictive analytics applications against big data sets. In many cases, companies have been implementing these tools on their own. With Genome and BigQuery, Internet companies such as Yahoo and Google are looking to deliver tools and services that enterprises can without having to invest in their own infrastructure.
Yahoo's Genome announcement comes even as the company is reeling from the departure of CEO Scott Thompson, who left Yahoo Sunday amid questions about the validity of his academic credentials. Ross Levinson has been named interim CEO while the company looks for a replacement for Thompson.