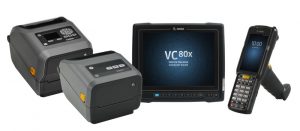 Zebra Technologies has announced new retail solutions designed to help retailers outperform their competition, elevate the customer experience, and strengthen their operations. The company providing rugged mobile computers, barcode scanners and barcode printers will also be showcasing these new solutions publicly for the first time in Booth #1603 at the National Retail Federation (NRF) Annual Convention & EXPO taking place from 14th to 16th January 2018 in New York City.
Among the new solutions that will be on display at NRF are the MC3300 handheld computer series and the VC80x vehicle-mount mobile computer providing organisations with a complete portfolio of Android-based mobile computers to meet their business needs from the front of the retail store to the distribution centre or warehouse.  The Android-based MC3300 and VC80x mobile computers are fortified with Mobility DNA to help simplify the deployment and application development required to transition from legacy Windows-based mobile investments. Zebra also announced the ZD420d/ZD620d direct thermal printers enhanced by Print DNA featuring the latest Link-OS 5.0 enterprise printer operating system for a "superior printing experience", according to the firm.
Jeff Schmitz, chief marketing office, Zebra Technologies, said, "Retailers require real-time visibility across all purchasing channels to ensure they have what the shopper wants, when, and where they want it, or shoppers will buy somewhere else and may never come back. At NRF, Zebra will showcase solutions that deliver visibility and actionable insights into retailers' customers and inventory from the point of sale to the distribution center – enabling retailers to make smarter decisions that help them grow their business, acquire new customers, and gain a competitive advantage."
The MC3300 mobile computer is available in multiple form factors with advanced data capture features that can scan 1D/2D barcodes in virtually any condition at short and extended long range – helping increase scanning speeds and accuracy while improving worker productivity in inventory management, parts tracking and picking and put away applications.
The light and rugged MC3300's large touchscreen display and keypad combination enables the use of key-based processes as well as Android's intuitive touch-based interface, providing staff with the flexibility they need to decrease learning curves and increase efficiency in fast-paced backroom and warehouse environments, said the firm.
The ultra-rugged VC80x is an Android-based vehicle-mount computer that provides frost and condensation-free operations through sensor and heating technology that results in less device downtime and maintenance.
The MC3300 and VC80x come enhanced with Mobility DNA software featuring a unique set of productivity, management and developer tools designed for easier integration and optimal business efficiency.
The ZD420d and ZD620d direct thermal printers are easy to use and built with advanced connectivity, centralised monitoring and device management features that ensure optimum print speeds and decreased printer downtime for retail, healthcare and manufacturing workers.
The ZD420d and the ZD620d features Zebra's Print DNA software suite powered by the updated Link-OS 5.0 operating system, which now includes PrintSecure. This security feature makes it easy to update and configure printers by using secure connections, block unwanted access and ensure that data and infrastructure are being protected.