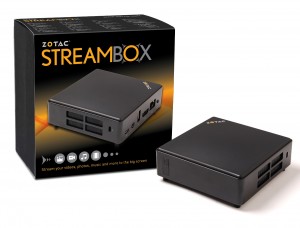 Zotac on Tuesday unveiled its new StreamBox and RAIDbox accessories at the CeBit trade show in Hanover, Germany.
The new products are designed to ease the process of sharing digital, audio and video files, Zotac said.
The StreamBox acts as a bridge between mobile devices and television sets, enabling Android smartphones, tablets and notebooks to broadcast audio, video, and image files via the industry-standard DNLA protocol. Display mirroring capabilities are available on a select number of Android devices, depending on Miracast capability.
"We focused on making the StreamBox easy to use for users of all skill levels," said Carsten Berger, Senior Director, Zotac International. "All a user needs to do is connect the Zotac StreamBox via Wi-Fi and launch a DLNA-compatible application, such as the free RealTek AirFun app, and begin sharing your music, movies and images."
The RAIDbox, meanwhile, is for users who want fast external storage in a pocket-sized form factor. The USB 3.0 storage enclosure accommodates up to two mSATA SSD drives and lets users select the storage mode to suit their needs. Options include maximum performance with RAID 0, enhanced security with RAID 1, independent drives with JBOD or span data in BIG mode.
"The Zotac RAIDbox makes creating your own external storage device easy," said Berger. "A user simply needs to install their own mSATA SSD modules inside the Zotac RAIDbox and plug it into a USB 3.0 port. The tool-less design makes customising the RAIDbox easy, as well."
Our online editor, Tom Paye, is at the CeBit show until Wednesday afternoon. To contact him, email tom@cpidubai.com.