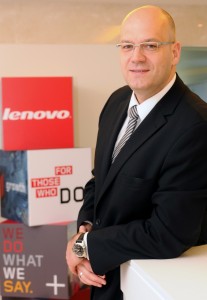 Oliver Ebel, Executive Director and General Manger, Lenovo Middle East and Africa, explains why rumours of the PC's demise are greatly exaggerated. 
In 1999, Microsoft co-founder Bill Gates predicted that the era of the personal computer will never end, and that – in fact – it will evolve to what Lenovo have now termed PC+, an evolution that allows consumers "to share data […] across different machines [and…] it will be automatic."
Gates was talking about an era that transcends the traditional use of personal computers, an era that will merge touch, mouse and keyboard and allows users to integrate their technological and digital lives into their everyday behavior. In fact, Gates predicted that "the PC will morph into many new forms, such as book-size 'tablet PCs'."
The post-PC era foretells the imminent demise of the personal computer, a prediction that has been faltering for decades. As was the case in the 1990s, the personal computer and related technologies have continued to evolve and sales have continued to rise. Corporations and individuals still rely on personal computers to run their businesses, write emails and browse the Web, play graphic-intensive video games, share information and more… This is an era of consumerisation and mobilisation of technology, engaging manufacturers to meet user demands for light-weight, portable devices.
In the Middle East, this evolution is even more prevalent. Consumers in the region are technologically savvy and always demand the latest and greatest products and solutions. More importantly, they are willing to meet the premiums that come along with them. Lenovo, for example, witnessed a 36.3 percent YTY growth during the fourth quarter of 2012 in the Middle East and Africa. Along with that growth, came increased market share in the UAE, Qatar, Oman, Jordan, Egypt and Lebanon.
As part of its growth strategy, Lenovo is banking on the PC+ by designing products that have the additional features and functionality that consumers want. This relies heavily on Lenovo's four-screen strategy, which aims to expand the company's product portfolio across four screens: PCs, tablets, smartphones and Smart TVs, providing consumers with different experiences and applications while maintaining the heart of a PC.
The consumerisation and mobilisation era demands a four-screen approach that allows consumers to seamlessly integrate their lives across multiple platforms using PC-based hardware. This approach means that products are multi-purpose and surpass the physical device. Aside from PCs, laptops, Ultrabooks and tablets, there is an intrinsic need for a cloud solution that allows the unified distribution of data across multiple devices and mediums.
According to Gartner, the personal cloud is expected to become the center of users' digital lives by 2014, shifting the market to a broader device perspective that includes PCs, smartphones and tablets.
For business people across the region, it is important to have vital business-relevant information constantly accessible while traveling. With PC+ and the integration of multiple devices across multiple platforms such as tablets, laptops and smartphones, access to information can become seamless and instantaneous, increasing employee productivity and decreasing business expenditure.
The PC+ era allows conventional PCs to accomplish tasks that were traditionally limited to just one dedicated machine, whereas now they have been supplemented by the introduction of mobile devices.