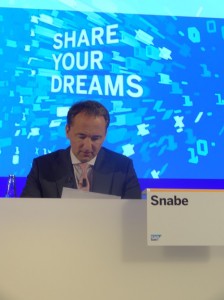 After 12 successive quarters of double-digit growth at SAP, co-CEO Jim Hagemann Snabe has pinned his future hopes on the company's recently acquired Ariba e-commerce network.
Recent growth has been fueled by SAP's HANA in-memory platform, the company's fastest-growing product ever, Snabe said, adding that the entire Business One suite can now run on HANA, not just its analytics functions.
But although HANA has specialised hardware requirements, SAP will not move into hardware sales: That will be left to partners, working to detailed specifications from SAP, he said in a news conference at the CeBit trade show on Tuesday.
Following the successful deployment of in-memory applications, the company is now turning its attention outward, Snabe said.
"We have 41 years' experience of optimising within companies," he said. "Now the next phase is optimising relations between companies. We can do that with Ariba."
He cited a study by McKinsey in early 2011 that found networked companies 50 percent more likely to have increased sales, higher profit margins, and market share growth.
"Ariba is our response to this trend," he said, adding that the Ariba network links one million trading partners in 190 countries. "Imagine the power of combining this network with the installed base of SAP."
As Ariba is integrated into all SAP products, customers "will only have to decide whether they want this benefit," he said.
Network members spend around US$450 billion in-network annually, according to SAP, which takes a slice of that spending as the network enabler. In the third quarter of 2012, the last before SAP closed its acquisition of the company, Ariba reported network transaction revenue of $47.3 million and subscription revenue of $95.3 million.
In return for those fees, customers are able to reduce transaction costs by automating many elements of the purchasing process, doing away with fax and email and eliminating the rekeying of data.
Snabe cited the example of Caterpillar, for which the SAP network accounts for 98 percent of spending. In the seven years it has been in the network, it has seen purchasing costs fall 70 percent, he said.
In addition, he said, "On the buyer side, we see a one percent to eight percent reduction in total spend, and better discounts."
On the seller side, benefits include increased revenue, lower processing costs, and up to 70 percent faster payments. "That means better liquidity," he said.
He announced a new Ariba customer, Fleurop, a partner network for 7,000 German florists. They are seeing average savings in administrative costs of €35 ($45) per flower arrangement ordered in-network, he said.
Snabe reaffirmed the company's decision, made in 2010, not to sell its own hardware.
"Customers want choice. They aren't interested in being locked up in a stack with no choice, and suffering price pressure as a result," he said.
He acknowledged that company did recently offer a HANA-optimised, SAP-branded server through its website, but said most servers for HANA will be provided by SAP partners.
"We don't want to be a hardware company," he said. "We think it's better to specify the hardware requirements for HANA in sufficient detail that you can be sure it will work."
In addition to talk of strategy, Snabe mentioned improvements to SAP's Customer OnDemand offering for marketing and sales staff. This has been extended with a new home page, offline capabilities for the related iPad app, and the addition of a self-service portal with telephony integration and a link to social commerce company Bazaarvoice.com for customers of SAP's customers.