The Information Technology Industry Development Agency (ITIDA), Hewlett Packard Enterprise (HPE) and Ingram Micro have signed a collaboration agreement to train and qualify Egyptian talents on Artificial Intelligence (AI) applications.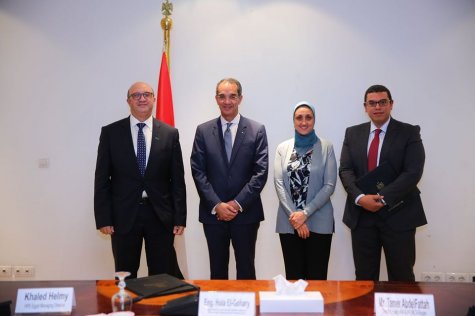 Egypt's Minister of Communications and Information Technology Amr Talaat presided over the signing ceremony.
The MoU stipulates that HPE equips a specialized laboratory in AI, in collaboration with ITIDA. HPE will provide the latest hardware and infrastructure, while ITIDA will take care of the lab location.
HPE, through the laboratory, will provide leading edge technologies directly in this lab or through connections with other (HPE and non HPE) sites. This aims to transfer expertise and spur innovation among Egyptian youth to produce and develop prototypes, in cooperation with HPE business network in the region, in particular, HPE similar laboratory in the UAE.
This is in addition to working on promoting and developing those prototypes and applications in the Middle East and Africa.
On the other hand, Ingram Micro will provide educational and practical training courses a training tracks for AI, around Computer Vision and Natural Language Processing.
ITIDA, however, will promote the enablement activity within Egypt innovation agenda. It will also revise training curriculum and provide feedback, handle the courses implementation and the trainees' selection process, as well as implementing the agreement terms within the agreed timeframe.
The MoU also stipulates that Ingram Micro Provides internship and employment opportunity for talented candidate who passed through the training and enablement tracks in the planned AI Center of Excellence that Ingram Micro is intending to establish in Egypt.
The MoU is aimed at enhancing cooperation between the three parties to qualify calibers for working in modern digital technologies. This includes qualifying machines and computers to process natural languages through the deep learning of artificial neural networks, to help keep up with the local and regional labor markets. This will also create new jobs and transform Egypt into a hub of expertise and skills in this field.
The MoU was signed by ITIDA CEO Hala El Gohary, HPE-Egypt Managing Director Khalid Helmy, and the Head of Internet of Things (IoT) and AI Division for the Middle East and Africa region at Ingram Micro Tamer Abdel-Fattah.