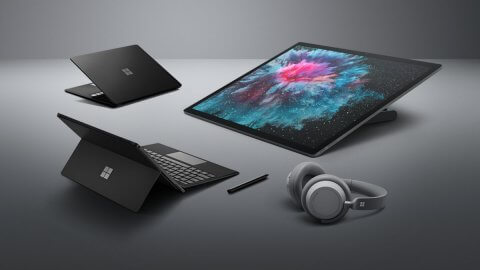 Microsoft has opened pre-orders for its latest Surface Laptop 2 and Pro 6 devices but you can only place the orders if you shipping address is within the United States. Customers in the UAE and the rest of the Middle East should wait for the regional launch.
Microsoft last week announced a series of new devices – Surface Pro 6, Surface Laptop 2, Surface Studio 2 and Surface Headphones.
Surface Pro 6 introduces the latest 8th generation Intel Quad Core processor, which the Microsoft says is more than 67 percent faster than 5th generation Surface Pro. The device features PixelSense Touch Display. The Pro 6 weighs about 1.7 pounds (0.77grams) with a 12.3-inch display and up to 16GB of RAM inside. In terms of battery life, Microsoft says it can last all day (13.5 hours) of video playback. Microsoft has also added two new colour variants –  Platinum  and Black matte.
The Surface Laptop 2 comes with the new Quad Core 8th generation Intel processor and again the company claims it is 85 percent faster than the original Surface Laptop and offers 14.5 hours of battery life.
The devices can be pre-ordered from the United States starting today, either on the Microsoft store or on the Amazon. The devices are expected to be delivered starting October 16. The Core i5 model is priced at US$899 for the 8GB RAM and 128GB Rom version and priced at US$1199 for the 256GB version. The Core i7 model with 8GB and 256GB is priced at US$1499 and a 16GB RAM with 1TB ROM is priced at US$2299.
However, it does not ship to the UAE or the rest of the region. Microsoft usually ships its latest products into the UAE after a three month wait period. So expect a UAE rollout anytime before the end of the year.