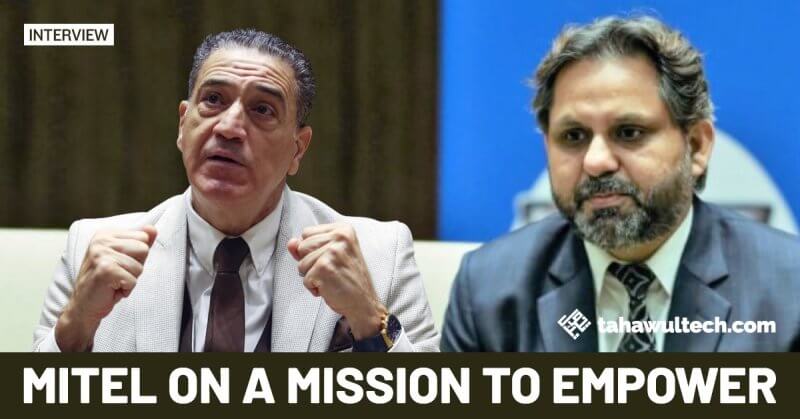 CNME Editor Mark Forker spoke to Mitel executives Feras Zeidan and Asif Khan ahead of their Mitel UAE symposium in Dubai, that has been engineered to cultivate and foster an environment that enhances greater partner empowerment and enablement across their channel ecosystem in the Middle East.
The Mitel UAE symposium which was held on 9th February, 2023 at The Address in Dubai Marina, is the first in a series of roadshows being conducted by Mitel along with its distributor Mart Networks that will be taking place across the Middle East in the forthcoming months.
In a candid interview, the Mitel leaders highlighted why these types of events are so important in terms of not only elevating their channel partners to new heights, but to reinforce their values and principles as a company.
How important are events like these for Mitel to really highlight the impact their portfolio of products and solutions are having on the IT eco-system across Middle East?
Feras Zeidan: Every vendor that is extremely serious about partner empowerment and enablement has to continuously invest in partner education and engage with the channel to demonstrate innovation, share the roadmap and the partner programme evolutions from classical on prem into hybrid cloud, etc. This is a continuous process. At Mitel, our channel is the key to our success so we consider that investing in channel partner events is essential.
Apart from roadshows, we've also developed the competence circle for example, which is a complete educational series on a bi-weekly basis that educates our partners on key technologies, targeting both sales and technical sales.
So for us, training and certification, tools improvement, face-to-face events and meetings, webinars, specifically for our platinum and gold partners is critical. Equally the alignment with our distributors is important to help us cover & grow our silver and gold silver partners.
We are a family, it's a team sport – and our role as a vendor is to continuously provide value to our channel community through trainings, appropriate partner programs, incentives and empower them to be able to support each and every organisation on their transformation journey.
A key element of the value chain we provide to our partner are third party integrations and alliances. When you look at the government and the private sector, their digital transformation can only be successful if we work to deliver an integrated solution, able to seamlessly connect with Microsoft Teams for instance, to a telemedicine third party solution, or to enable Whatsapp integration in the contact centre solution and advanced recording. All our alliances are built to deliver total end-to-end solutions, and these events are an opportunity to empower our partners and promote our ecosystem overall.
What can attendees expect to learn from the executives delivering keynote presentations at the Mitel Symposium?
Feras Zeidan: This event addresses two types of partners. Those who are already part of our family: these partners are already onboarded, certified, they're doing business with us and thus know intrinsically the value of Mitel.
On the other side, there are new partners, who are interested, or who want to work with a major vendor like Mitel.
So, during the Mitel Symposium we focus on demonstrating our technological and commercial values as well as our ability to integrate with third party technologies.
On the portfolio front, attendees get an overview of our roadmap and hear from the innovations and the continuous evolutions we're making on our products and solutions. As an example, we showcase a demo of the Mitel assistant that will be launched in the next months, a free software that will integrate our IP telephony infrastructure with Microsoft Teams.
We also put the emphasis on the scalability, redundancy and security of our solutions, which are more than ever critical points for organisations of all sizes.
What are fundamentally the key outcomes and objectives that Mitel wants to achieve with this conference?
Asif Khan: The Mitel Symposium is Mitel's primary channel event for the Middle Eastern market, and we opted to start with UAE, followed by Kuwait and other dates across the Gulf and Middle East region in the months ahead.
Fundamentally, we're looking to communicate our values, showcase our solutions, our innovations and updates and share what's next at Mitel.
We also aim at introducing the value proposition from Mart Networks to our channel partners, be it in terms of product fulfilment, logistics, operations, credit or technical pre-sales support. Our partnership with Mart Networks is already proving to be very successful in the African region, and that's the reason why we decided to extend it to Middle East.
Can you tell our readers more about the partnership between Mitel and Mart Networks?
Asif Khan: Mitel first signed a partnership with Mart Networks a few months ago to address the African region.
We recently extended our contract with them in the Middle East region, and this Symposium is the first event in the UAE to launch and roll out this partnership to our channel partners.
With this agreement Mart brings a lot of value to our channel partners as they have the resources and the logistics on the ground, making sure that the products are fulfilled effectively and efficiently to our partners. They also provide presales as well as post-sales support to our channel partners, together with financing.
What we gained out of this relationship thus far in the African region is a huge success, and we are confident we can replicate this with Mart Networks in the Middle East.