Dell EMC, as part of the Dell Technologies Forum in Dubai, hosted the first Middle East edition of its 'Women in Technology' initiative, which featured accomplished women in technology-related careers in the UAE as speakers and panellists.
Globally, the technology industry typically falls behind others when it comes to inclusivity and diversity, resulting in a sparse talent pool of female IT professionals, and the number of female Chief IT Officer (CIOs) at just around 16 percent.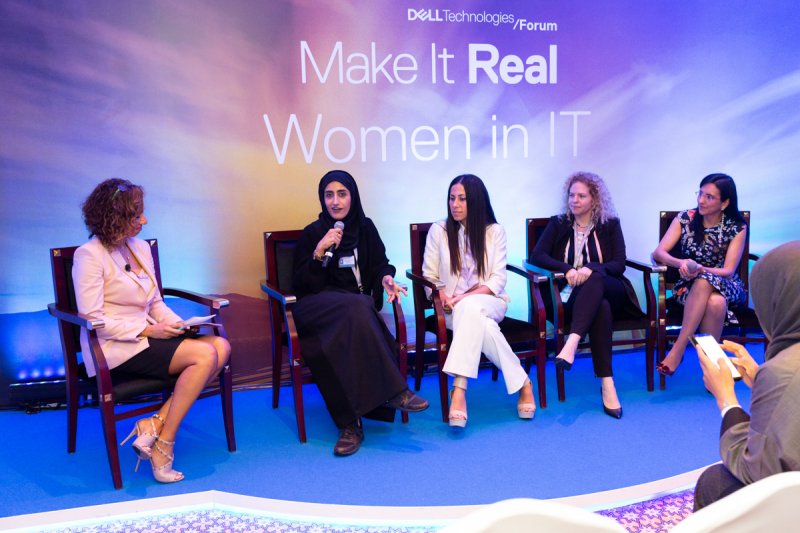 In the UAE, the statistics show a more positive trend, as women account for 56 per cent of all graduates in STEM (Science, Technology, Engineering, Mathematics) streams, and 35 per cent of all Internet entrepreneurs, according to HR consultancy BWP.
The Women in Technology session brought together women from within Dell EMC and beyond to present on topics including milestones, challenges, and other realities faced by women in technology workplaces. Ms. Manal Ansari, Vice President, ArabWIC (Arab Women In Computing), and Innovation Manager, Emirates National Bank, and Dr. Hoda Khzaimi, Director – Security Center, NY University Abu Dhabi, and President of Emirates Digital Association For Women, were the keynote speakers.
The session then included a panel discussion with women in technology leadership roles, including Abeer El Rawy, IT Data Center Manager, DEWA, Nisreen Salem, Big Data Architect and Programme Manager, RTA, Jennifer Lynn, freelance cybersecurity consultant, and Patricia Florissi, Vice President, Global CTO for Sales and Distinguished Engineer, Dell EMC. The session was moderated by Haidi Nossair, Marketing Director – META region, Dell EMC.
"Companies with diverse management are more likely to develop new and innovative products," Haidi Nossair. "This creates the need for a holistic approach to increase the interest of girls and women in STEM. At Dell Technologies, diversity and inclusion is a business imperative and is supported by multiple initiatives. Bringing WIT to Dell Technologies Forum is a great opportunity to give women the platform to speak about unique challenges and opportunities to accelerate the representation of women not only in IT but in leadership roles as well and what are the responsibilities of men and women combined to make it real."
Gender empowerment is a key strategic pillar within Dell's Diversity and Inclusion priorities and as such Dell established a number of programs that help elevate and promote women within the organization. Leading Women@Dell is a year-long programme in collaboration with Simmons College School of Management. The programme is designed to meet the specific needs of senior level, high potential women with C-Suite aspirations already holding senior level positions.
Patricia Florissi said, "We know that a diverse workforce supported by an inclusive culture delivers business and social value that is just as important to Dell's market leadership as our technology strategy and execution. At Dell, we engage in cultivating diversity and inclusion through three pillars: Culture, community, and commitment. A diverse and inclusive environment ensures that Dell is a place where people want to work, team members feel that they belong, and our values reflect those of our customers. As a global company, we have the power to impact multiple industries and every geography that we serve."
During the session, Dr. Hoda Khzaimi stressed on the importance of a collaborative effort among women and men to create an equitable environment, as well as the growing need for oversight into the critical area of women's integration into the workplace.
"As the UAE is a melting pot of nationalities, with businesses from all over the world too, it is natural that there isn't one single approach to ensuring inclusion and diversity. Given the visionary leadership of the UAE, I believe the need of the hour is an entity that links the Government, the leadership, and the corporate world to develop a Global Transparency Index, which will provide guidelines and benchmarks for organisations to take the right steps. This will ensure that Gender Diversity, in particular, becomes a business imperative, and allows well-performing organisations to benefit more," she said.
The company's programme on women empowerment include the Managing Success Now programme is focused on mid-level high potential women, which helps arm them with the skills they need to appreciate and understand differences, and equip them with negotiating skills and the like to help them propel their careers forward in a positive fashion.
Through the Dell Women's Entrepreneur Network (DWEN), Dell supports and nurtures a community of female entrepreneurs by providing access to technology, networks, and capital. Dell holds an annual DWEN Summit, which brings top women leaders together to connect on today's pressing gender and entrepreneurship issues.
Employee Resource Groups (ERGs) are communities that provide opportunities for personal and professional development by connecting team members around areas such as gender, ethnicity, and background. Currently, more than 34,000 team members participate in one of 13 ERGs, through more than 300 chapters in 60 countries around the world.