With digital transformation being a major area of focus for businesses and government across the UAE, Dell Technologies has reinforced its commitment to advancing the country's ICT agenda.
The global tech giant explored how technology can shape the future success of businesses in the country at the recently held Dell Technologies Forum 2019 in Dubai.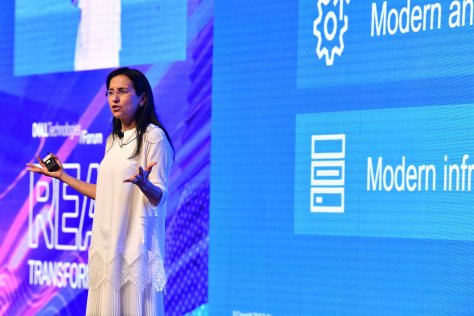 According to the Global Competitive Index 2019 issued by the World Economic Forum, the ICT sector in the UAE achieved significant progress in the global ranking as it moved from 6th to 2nd place.
The 2019 edition of the Dell Technologies Forum served as a platform for knowledge sharing and best practices that aim to enhance and transform the ICT landscape in the UAE.
Mohammed Amin, senior vice president, Middle East, Russia, Africa and Turkey, Dell Technologies, said, "Our primary focus is to help organisations accelerate national and business transformation initiatives with speed and purpose as we work together to power the innovation agenda of the UAE. Given the reach of digital technology and the change it promises, there is a need to shepherd these exciting technologies without diminishing its energy and potential. Dell Technologies is committed to making transformation real for organisations across UAE and we look forward to the opportunities that the forum presents to not only strengthen our position as trusted advisors to our customers and partners, but also help businesses chart a successful digital roadmap for the future."
The event also provided a blueprint for how ICT transformation initiatives can enable organisations to become digital enterprises of the future by showcasing next-generation technologies that support Artificial Intelligence and Internet of Things (IoT).
Dr. Patricia Florissi, vice president and global chief technology officer of sales, Dell Technologies was the opening keynote speaker and shared insights on how technology can drive human progress.
She highlighted the importance of the role of data in fueling the success of digital transformation initiatives and how emerging technologies will turn data into value, giving organisations a competitive advantage to succeed in a digital era.
The informative sessions held at the event examined how digitisation spurs the development of new sectors that include but not limited to: artificial intelligence, e-commerce, mobile financial services, IoT, cloud computing and more. It also highlighted the positive impact it would have on the national GDP and how companies across industries such as logistics, infrastructure, trade, finance and more can enhance their productivity, efficiency and profitability without compromising on quality. This in turn is in line with the UAE's strategy to be at the forefront of innovation across key sectors of growth.
Another key aspect of Dell Technologies Forum 2019 Dubai was its focus on how technology is driving positive societal impact. As part of its 'Progress Made Real Vision 2030' social impact framework, Dell Technologies is committed to changing the world by advancing sustainability, cultivating inclusion, transforming lives with technology and upholding ethics and data privacy.
The forum included a panel discussion on 'Women in Technology' that saw vibrant and thought-provoking discussions from senior female leaders around core issues relevant to the experience of women in the ICT sector today.
Fady Richmany, senior director and general manager – UAE, Dell Technologies, said, "The UAE continues to place ICT at the heart of its development strategy as it becomes a competitive and dynamic digital economy. It is therefore important that organisations ensure that their IT infrastructure enables them to compete in a hyper-digital world and are laying the foundations for their digital future. At Dell Technologies, we are committed to helping our customers and partners unlock new enterprise value as they advance their digital roadmap, pursue innovation and continue building momentum in the country."
The event also included specific workshops and breakout sessions led by experts from the Dell Technologies family on the move to the cloud, improving cybersecurity, AI and Machine Learning as well as 5G technology. These sessions were built around four key transformation pillars that include: digital, IT, workforce and security and will enable business leaders to identify how they can use advanced technologies to drive growth and improve competitiveness.