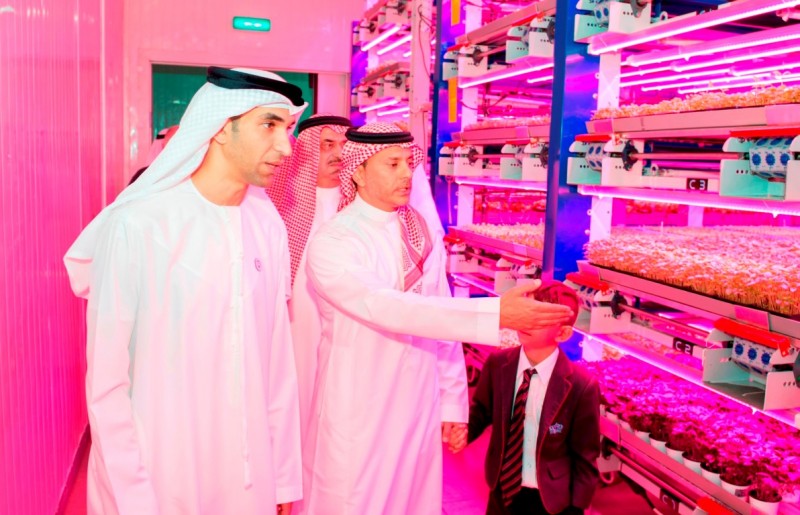 The Ministry of Climate Change and Environment, MoCCAE, and Shalimar Biotech Industries, have signed an agreement to establish vertical farms on the ministry's land in Dubai.
Sultan Alwan, Assistant Under-Secretary for the Regions Sector at MoCCAE, and CP Ramachandran, Founder and CEO of Shalimar Biotech Industries, signed the agreement at MoCCAE headquarters. Dr. Thani bin Ahmed Al-Zeyoudi, Minister of Climate Change and Environment, attended the signing.
Under the terms of the collaboration, MoCCAE will allocate 7,600 square metres of its land, provide Shalimar Biotech Industries with logistical support, and provide the services needed for the project.
The company will establish 12 vertical farms on the land and develop infrastructure facilities, such as a water desalination plant, climate-control air conditioning, LED lighting, and automatic irrigation systems.
Speaking about the partnership, Alwan said, "The agreement leverages synergies between MOCCAE and the private sector to encourage innovation in agriculture, with the aim of enhancing the UAE's food security and diversity.
"As vertical farming has a significantly smaller carbon footprint than traditional farming, ventures such as this one align with the country's drive to improve its agricultural self-sufficiency."
The five-year cooperation agreement seeks to promote new agricultural technologies; provide an educational centre for local farmers, students and researchers; reduce agricultural waste, the risk of infection and the spread of agricultural pests; achieve year-round crop production, and mitigate thermal emissions from agricultural processes.