The UAE Office for Future Food Security and Masdar (Abu Dhabi Future Energy Company) have announced a strategic partnership to enhance food security in the country.
The collaboration aims to address future challenges by developing joint initiatives that enhance the country's capacity and competitiveness in critical sectors related to future food security.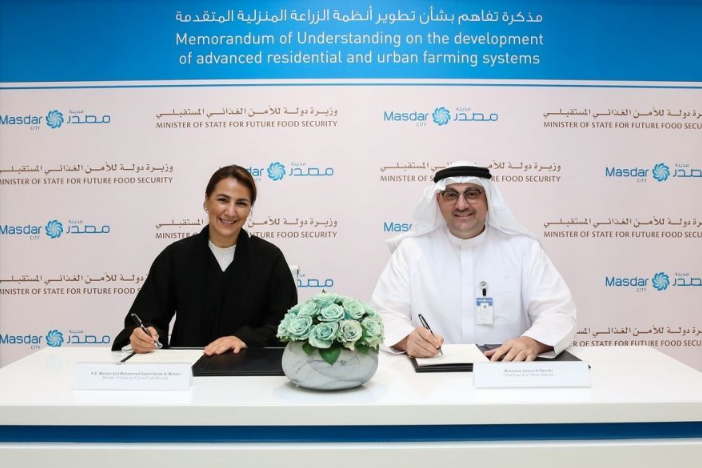 The agreement was signed at the Masdar headquarters in Masdar City, Abu Dhabi by Mariam bint Mohammed Saeed Hareb Almheiri, Minister of State for Future Food Security, and Mohamed Jameel Al Ramahi, Chief Executive Officer of Masdar.
"This strategic partnership is the cornerstone of achieving future food security objectives – an important step in activating plans to meet the challenges of this vital cause and invest in its opportunities," said Almheiri.
"Masdar was a natural partner, given its experience working in sustainability through tangible projects in Masdar City and their renewable energy assets globally.
"This collaboration signifies an important step towards advancing innovations in agricultural production mechanisms and sustainable solutions to the challenges facing the agriculture industry in the UAE. It will also contribute to raising awareness about new, innovative solutions to enhance food availability and sustainable agriculture, and support emerging companies in the sector, boosting future food security in accordance with the UAE Vision 2021."
According to Almheiri, future food security is a key focus of the UAE government, a reflection of the leadership's far-sighted vision, which sets the well-being, prosperity and food availability of its citizens and residents at the top of its agenda. "This has led to close cooperation between the government and private entities to achieve the objectives of future food security, through an integrated system of joint work. The outcome aims to develop the necessary infrastructure, and implement practical approaches based on the latest scientific research findings."
The Memorandum of Understanding (MoU) focuses on two major initiatives, a vertical farming container pilot project and a smart home farm.
The vertical farming container programme will see a pilot facility established in Masdar City, where the latest technologies and best practices in controlled environment farming will be tested. The project will also contribute to defining the business and regulatory guidelines for the development of vertical farming in the country.
Meanwhile, the Smart Home Farm is an initiative to be developed in connection with Masdar City's Eco-Villa, conceived as a template for affordable and highly energy- and water-efficient residential villas in the UAE.
The Smart Home Farm initiative will help showcase emerging sustainable home and urban farming technologies and solutions from local and international suppliers.
Masdar's Al Ramahi, said, "Masdar City in Abu Dhabi is already a highly successful test bed for research into sustainable food production and today, as the city's community of residents, office workers and visitors continues to grow, we are exploring further opportunities to combine sustainable farming with low-carbon urban development, including vertical farming methods and home farming technologies integrated within our Eco-Villa concept."
Collaborating with the UAE Office for Future Food Security will help to raise awareness of these efforts and the benefits of sustainable food produce, encourage innovation, and promote further public-private involvement in food security projects."