The UAE is committed to developing the skills and capabilities to promote technologies and harness them to build a safe and bright future for next generations, said Omar bin Sultan Al Olama, Minister of State for Artificial Intelligence.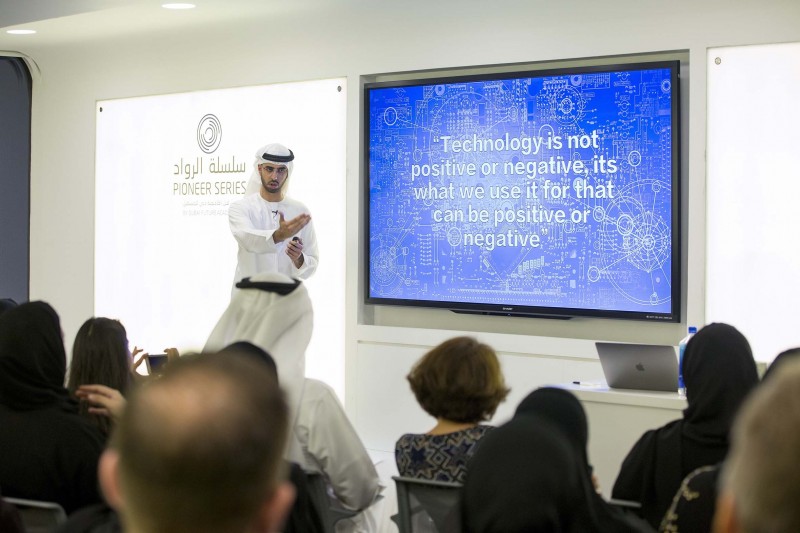 His remarks came on the sidelines of the 'KNOW session', presented by Al Olama as part of the 2nd 'Pioneer Series' initiative.
The initiative is organised by the Dubai Future Academy, an initiative of Dubai Future Foundation, throughout the Holy Month of Ramadan, WAM reported.
During the meeting, Al Olama reviewed key challenges facing future technologies and the solutions to these challenges, including those facing the development of digital currencies, robots, self-driving cars and fast transport such as the Hyperloop. "In finding solutions to these challenges, we create new sectors and industries that cause a great economic and social return to society and the country. Individuals who find solutions to these challenges around the world are just like you," he added.
The sessions was attended by Khalfan Belhoul, CEO of Dubai Future Accelerators, and several officials from public and private organisations and departments.
The'Pioneer Series hosted a group of VIP speakers, including ministers, officials and specialists in various fields, to share knowledge and promote community awareness through the Future Council, which reviews the various aspects of the future and innovative initiatives.