The UAE Ministry of Health and Prevention (MoHAP) has announced that it will be reinforcing its e-services by upgrading the services provided by outpatients clinics of the ministry-run hospitals to become virtual ones, using smart technology and digital communication systems.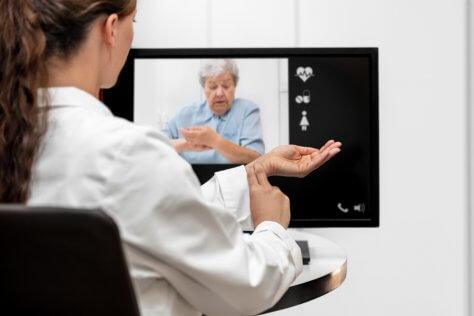 The move is part of the organisation's efforts to enhance its telemedicine system.
The service, which comes in response to the precautionary and preventive measures taken to limit the spread of the new coronavirus (COVID-19), includes medical, nursing, and pharmacy services, as well as supporting medical specialties, such as nutrition and physiotherapy.
The clinics will also provide remote curative and consultative services to simulate the pattern of traditional medical services without the need to visit hospitals.
According to MoHAP, since the launch of the virtual clinics it has attracted more than 15,000 patients, thanks to the top-notch healthcare services provided.
In addition, MoHAP has also enhanced the communication between patients and their families, especially, the senior citizens, the organisation has enabled hospitals to launch virtual visits to allow patients to keep in touch with their families, something that helps boost patient's morale and improve their health conditions. The new service is based on MoHAP's innovative technology solutions in the digital health field and it aims to further activate the social distancing instructions and to safeguard patients and employees from infection.
The virtual clinics deliver most of the vital medical specialties, such as cardiology, pediatrics, internal medicine, gynecology, nutrition, physiotherapy, remote mental health services, such as drug rehabilitation programmes, psychosocial consultation, other psychiatric departments, and community psychiatry of different ages, including adults, the elderly, children, and adolescents.
The clinics will also provide medicine home delivery service nationwide to ensure the continuation of the curative services amid the current circumstances.
Dr. Youssif Al Serkal, Assistant Undersecretary for the Ministry's Hospitals Sector, said, "The move falls in line with the government directives in terms of utilising smart solutions in the preventive and therapeutic services to fight COVID-19. At MoHAP, we always seek to develop innovative tools and smart services to suit all the circumstances to provide our patients with top-notch health and curative consultative services.
"To that end, we take advantage of smart technologies in the digitisation of healthcare services according to the best international practices. We have also strengthened the mechanisms for integrating the AI in the medical services, as a pattern of virtual hospitals in the future, pursuant to the UAE Artificial Intelligence Strategy and data analysis in line with the UAE Centennial 2071."
Al Serkal pointed to the ministry's keenness to ensure the continuation of the health services to maintain people's health and safety and to continue to rely on communication technology remotely, as well as to make the best use of its advanced IT infrastructure that has been developed according to performance programmes and indicators.