UAE leaders has signed of the outer structure of the Hope Probe which will be sent to Mars.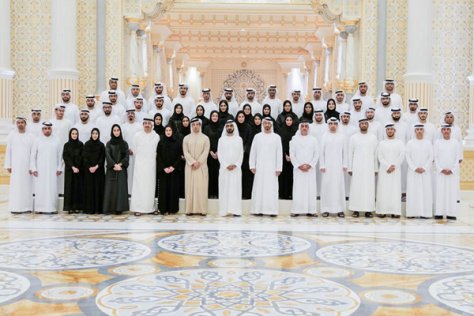 During the signing ceremony Sheikh Mohammed bin Rashid Al Maktoum, Vice President, Prime Minister of the UAE and Ruler of Dubai and Sheikh Mohamed bin Zayed Al Nahyan, Crown Prince of Abu Dhabi and Deputy Supreme Commander of the Armed Forces have noted that under the leadership of President Sheikh Khalifa bin Zayed Al Nahyan, has become the center to reignite the Arab civilisation, and an inspirational story for future generations, and a message of hope for the region and the world for a better future.
"The power of hope shortens the distance between the Earth and sky," the two wrote in Arabic.
The metal piece will be attached to the probe, which will be used to study the atmosphere on Mars and is set to blast off for the Red Planet this year in a historic mission for the UAE.
"Building the Mars Hope is a message to UAE citizens and residents as well as to the world that believing in youth and investing in their capabilities is a successful bet for every nation that wants to build the future, and engrave its footprint in the journey of humanity," Sheikh Mohammed said.
"The Hope Probe materialize the ambition of the late Sheikh Zayed to reach the space, and another step in the preparation journey for the next fifty years, which we will celebrate through achieving all the objectives of the UAE centennial, and to be number one in the word in every sector," he added.
"Buoyed by the determination of our youth, we are proceeding with our space programme to serve science and humanity," Sheikh Mohammed added.
Meanwhile, Mohamed bin Zayed said that the Hope Probe is a message from the UAE to the world that its ambition is limitless, and it is able, with the hands of its citizens, to turn challenges into opportunities and achievements that help serve the knowledge and civilisation journey of humanity.
The Hope Probe mission, also called the Emirates Mars Mission, is the first by any Arab or Muslim-majority country.
It will take seven to nine months for the probe to reach Mars and will arrive in the same year the UAE celebrates its 50th anniversary since unification.
The probe was designed and developed by the Mohammed bin Rashid Space Centre but funded and supervised by the UAE Space Agency.
Hope will become one of three probes orbiting Mars. The other two are already in place.
The UAE probe will study how the upper and lower layers interact with one another, providing the first complete picture of the planet's atmosphere. It will also help to create a picture of how the seasons on Mars are affected by the light of the Sun.
The spacecraft will then collect two years' worth of scientific data, with an optional two-year extension that would take the mission into 2025.