Sony Corporation is exhibiting at CES 2020 in Las Vegas, Nevada, being held from, 7th to 10th January 2020.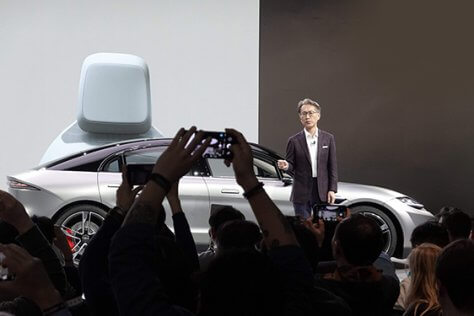 Sony seeks to deliver products, content, and services that resonate with people and affect a positive impact on society, based on its Purpose to "fill the world with emotion, through the power of creativity and technology."
Sony Corporation president and CEO Kenichiro Yoshida, said "Creativity is a powerful driving force that moves Sony forward. When it is combined with our technology, it is unstoppable."
He then proceeded to introduce Sony's latest offerings and new developments from its electronics and entertainment businesses.
Next to take the stage was Jim Ryan (President and CEO, Sony Interactive Entertainment), who announced that PlayStation 4 has now cumulatively sold through more than 106 million units worldwide, and that PlayStation Network had reached 103 million monthly active users. He then discussed the cutting-edge technology and features of PlayStation 5, slated to launch this holiday season, and unveiled the new logo design for the first time ever. He added, "our promise to the 100 million strong PlayStation community is to offer the biggest and best in content, and to deliver unique experiences to gamers with unprecedented speed."
In live sports production, Sony presented the recent achievement of a joint proof of concept trial with NBC Sports and Verizon at an American football game. David Mazza (CTO, NBC Sports Group), took the stage and noted the expectations for Sony's technologies on media production for the broadcasts and wireless communication technology, which brings new possibilities to the live sports production workflow.
Furthermore, Yoshida stated that, "It's not an exaggeration to say that Mobile has been the mega-trend of the last decade. I believe the next mega-trend will be mobility," as he unveiled a prototype vehicle incorporating imaging and sensing technologies that contribute to safer and more reliable autonomous driving, and an array of highly-advanced electronics technologies that together deliver an unprecedented in-car entertainment experience. He concluded his presentation by stating that in addition to striving to contribute to society, "Sony will continue to evolve as a creative entertainment company with a solid foundation of technology."