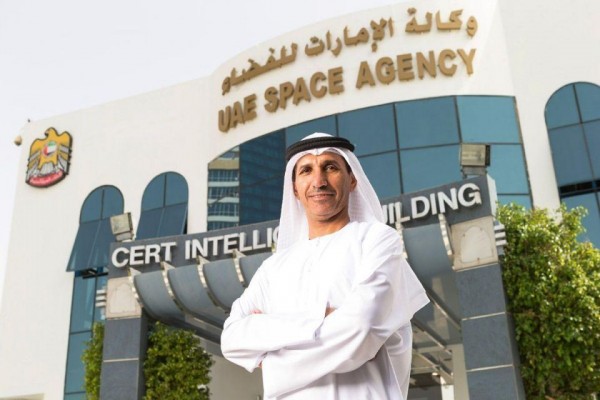 The UAE Space Agency and Virgin Galactic have announced a new partnership that will see the two parties cooperate across a range of areas including plans to develop space tourism flights.
Dr Mohammed Al Ahbabi, director general of the UAE Space Agency, and George Whitesides, CEO of Virgin Galactic and The Spaceship Company (TSC), signed a memorandum of understanding (MoU) that will also focus on bringing Virgin Galactic spaceflights to the UAE for education, science and technology research.
The agreement, coming shortly after Virgin Galactic's historic commercial space flights in December 2018 and February 2019, marks an important step as the company progresses toward commercial operations. Following significant advances in the UAE space regulatory and investment environment, including the recently developed Human Space Flight regulations that enable such activities from its territory, as well as the UAE Space Agency National Investment Promotion Plan, the UAE is well-positioned to cater to such an important potential activity. The agreement also builds upon the longtime UAE investment in Virgin Galactic and TSC, held by Mubadala Investment Company.
Dr. Mohammed Al Ahbabi, director general, UAE Space Agency, said, "This significant agreement builds on our longstanding relationship with the Virgin Group, with whom the Mubadala Investment Company jointly owns Virgin Galactic. It also reflects the advanced stage of the UAE's space sector and our rapidly developing capabilities which, together with our partners at Virgin Galactic and The Spaceship Company, can enable the UAE to contribute to the manufacturing of space vehicles and commence spaceport operations within the next few years."
Furthermore, the parties will develop a plan for a SpaceShipTwo and carrier aircraft vehicle pair that would be operated from the UAE;collaborate to develop a "Center of Excellence" for microgravity research in the UAE and develop spaceship operational plans for UAE's Al Ain airport.
The space vehicle will be utilized by customers in the UAE and region as a science platform for high-frequency space research, as well as private individuals to experience space. This dual nature will drive innovation, spur industrial development, STEM education (Science, Technology, Engineering and Math), as well as promote further investments and economic growth in the UAE.