Tahawultech.com's Deputy Editor Daniel Shepherd reviews the recently released vivo X60, which is poised to make an impact as the new standard for professional photography smartphones in the Middle East.
The X60 series, consisting of the X60 and X60 Pro, were developed alongside ZEISS, a global leader in optics and opto-electronics. Featuring a cutting-edge and stylish design from vivo with maximum imaging quality co-engineered by ZEISS, the X60 series signifies vivo's commitment to deliver an ultimate mobile photography experience.
This release has certainly positioned itself behind a strong linage when it comes to pushing the envelope for mobile photography.
Now let's take a closer look at the device in question:
Redefining mobile photography: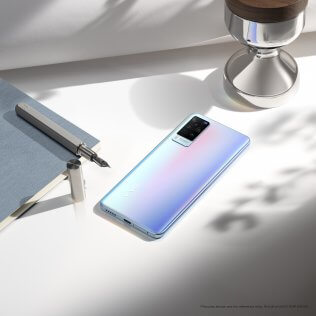 A picture can be worth a thousand words, and in this era of influencers and social media it's more important than ever that your photos capture your story.
The X60 was created to integrate vivo's user-first approach with ZEISS's mobile imaging. The combined optical lenses, sensors, image processing algorithms and multi-modal features allow for smartphone owners to get access to the kind of camera technologies that were previously limited to professional photographers.
Key to the X60 series' top-notch photography capabilities lies in its groundbreaking vivo ZEISS co-engineered imaging system, resulting in a powerful performance. The X60 and it's sibling model the Pro have three rear cameras (48MP + 13MP + 13MP), as well as a 32MP front camera. The ZEISS logo features in the corner of the lens, while the ZEISS Vario-Tessar trademark is engraved beneath the cameras for an understated yet professional maker's mark.
Users can also access ZEISS Biotar Portrait Style on smartphones in the vivo X series. This new feature allows users to create customised professional portraits, with an unprecedented ability to render image sharpness.
With a satin finish: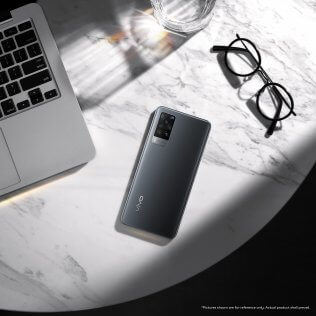 Now, of course, how a smartphone looks it almost as important as the technical features. After all such devices have become an integral part of the modern identity and should be a guaranteed element of a premium product.
Despite the X60's numerous cutting-edge features and capabilities, vivo has managed to incapsulate all of this technology into a slim, lightweight shell that sits lightly in the palm of your hand. The X60 is complete with a stunning 6.56-inch flexible Ultra O Screen containing a 3.96 mm front camera punch hole centred at the top with ultra-narrow bezels. The Black colourway weighs a mere 176g with an ultra-thin 7.36 mm body. With a focus clearly on the futuristic, the X60 carries on the legacy of the X50 with slender curves and a sleek silhouette.
The rear cameras are encased within the vivo X60 series' New Dual-Tone Step, a design that allows it to sidestep an otherwise bulky look. Fashioned in thin cascading panels that rise in subtle steps, the Dual-Tone Step integrates all of the professional-grade imaging technologies and photography features co-engineered with ZEISS.
The colour palette of the X60 are inspired by summer blooms, and are available in Blue or Black, though for this review we got to check out the blue variant. With Blue, users can enjoy the visual radiance inspired by a sunrise, comprising of soft blue and purple hues.
Optimising Power and Performance:
Now while looks count for much, it's what's inside that can make or break a smartphone experience. Now hopefully a detailed breakdown of the X60's performance capabilities can assuage any such worries.
The vivo X60 is fitted out with the Qualcomm Snapdragon 870 5G Mobile Platform to collectively beat its predecessors on all fronts with superior and smoother daily user experiences. With a substantial boost in CPU and GPU performance, these energy efficient processors contain integrated 5G basebands to make the user's 5G wireless network lightning fast with minimal latency.
Decked with a 4200mAh battery, vivo's 33W FlashCharge technology on the X60 allow for solid durability and swift charging time for added convenience which any new user will swiftly notice.
Optimising the users' sensory experience, the X60 features a 120Hz refresh rate and 240Hz response rate running on an edge-to-edge AMOLED display. This allows for effortless scrolling and viewing, while the 240Hz response rate induces an ultra-responsive touch screen to optimise user performance for those who game or work in any capacity on their phones. Additionally, the X60 has been awarded with certifications including HDR10+, SGS Eye Care Display, SGS Seamless and Hi-Res Audio. So you can look forward to vivid clarity and immersive visuals without the worry of significant eyestrain after long periods of usage.
The X60 is also home to a diverse set of multi-modal photography and videography features that are hallmarks of vivo technology. Through the Cinematic Master feature, great cinematic footage can be filmed on a 2.35:1 widescreen aspect ratio with clever audio zoom and direction sound input. You also get the choice between HDR Super Night Portrait, Ultra-Wide Night Mode, Super Pano, Pro Sports Mode, Kids Snapshot, Multi-Style Portrait and Long-Exposure Mode, amongst many others depending on your individual needs.
The Verdict
With the X60 vivo continues their unmarred legacy of quality smartphones with a shift in focus, one could say, to more photographic pursuits.
The X series proves a stalwart companion in a world where we place great value on the perfect photo for the 'gram. In terms of ticking all the right boxes, vivo's latest offering knocks it out of the park with sleek design, a laser focus on pushing the envelope for camera capabilities and enough processing power to keep pace with the needs of the consumer.
Overall the X60 is superb smartphone that reaches professional photography in terms of image quality and is not without artistic merit in the visual design department with a sleek sci-fi design.
Price: AED2499 (Specifications will vary according to local market conditions and consumer preferences)
Available at: All Major Retailers. (Availability will vary according to local market conditions and consumer preferences)