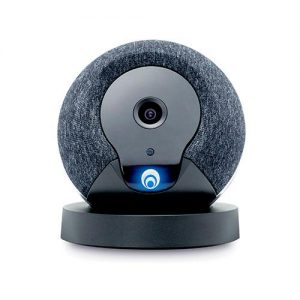 Easy-to-use and elegantly-designed, all-in-one home security system Cocoon could be the answer to your safety concerns.
Security cameras are becoming popular in many homes, and they come packed with many features. However, most home security systems don't really work because of the complex installation process and high false alarm rates, which can be as high as 98 percent in some cases. This is where Cocoon's smart home security system kicks in. Designed mainly for indoors, Cocoon uses Subsound technology to sense unusual sounds in your home, not just the room you place it in.
Getting started with Cocoon is easy as plugging the device into a power supply and downloading the app onto your phone. Cocoon combines Infrasound, machine learning and geolocation to understand who should and who shouldn't be at your home. Through the Cocoon app available on both iOS and Android platforms, you can check in on your home from anywhere, anytime and see your household's comings and goings, and it generates text-based alerts whenever it detects something unusual. And if you are suspicious about any activity, you can raise an alarm by simply sounding the deafening 90+db siren on the app.
Recently, Cocoon has integrated with Amazon Alexa, and Echo devices, which means you can your voice to control the system or ask for information about your home. Cocoon also allows you to add more than one device; if you already have Cocoon set up, you can add new devices in the 'your household' part of the app.
Cocoon is powered by AI, which helps it avoid false alarms. However, when you first set it up, the system takes around 7-10 days to adapt to your environment, and you should brace for false alerts during this period, especially if you have active pets in your home. Armed with a wide viewing angle, Cocoon can be set up to point at any directions and it sends multiple alerts to multiple people if there is a breach.
The only drawback we could find with the system is the lack of battery. This means you can't keep the video rolling if the power fails and the system can be set up only next to a power source. Barring that, Cocoon is a beautifully designed home security system that be easily activated and it provides protection to your household without any blind spots. We recommend that you buy.