Barco has reinforced its leadership and conferencing experience across the MENA region by forming a strategic partnership with Logitech International S.A., a Swiss manufacturer of computer peripherals and software.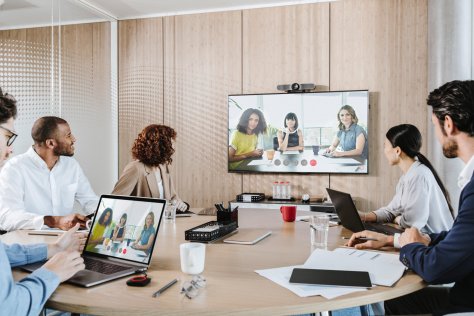 With the partnership, Barco offers a combination of its wireless conferencing solution ClickShare Conference with Logitech's Video Collaboration products – extending an all-in-one solution that provides organisations in MENA with outstanding conferencing experiences at any workspace, from huddle rooms to large meeting rooms.
This means organizations in MENA can transition to a true 'Bring Your Own Meeting' approach, to enable employees to use their own laptop and their own preferred conferencing solution while complying with their own company policies. With the current workforce demanding more flexibility and 71 percent of employees already using their own preferred conferencing systems, according to Barco research, this technology enables them to use their own device and conference wirelessly using any service in less than seven seconds. The new range is supported by a brand new ClickShare Conferencing Button, which instantly makes meeting room USB peripherals available on participants' laptops. A new set of a collaboration and interactivity features have also been added to the ClickShare Collaboration App as part of the product range evolution.
Ramzi Itani, Vice President Middle East and Africa, Barco, said, "The COVID-19 pandemic has revealed the need for meeting rooms and technology that engage participants and our technology will facilitate this. In fact, Barco's Future of Meetings research study – compiled in late 2019 – revealed that almost half (45%) of the participants feel less important when joining remotely, while 43% feel frustrated or disengaged.  With Logitech, we are integrating the functionality of the camera and audio in the meeting room – ClickShare Conference meets the market need for agnostic, unified communication, and collaboration. The high quality and reliability of our solutions makes ClickShare the preferred go to solution to ensure seamless and hassle-free workplace conferences."
"Our partnership with Barco stems from the need to provide our customers with the best possible user experience," said Loubna Imenchal, Head of Video Collaboration at Logitech AMECA. "As a market leader in video collaboration solutions, we believe Barco is the ideal partner to complement our innovative products and take our customers experience to the next level. This is especially true now that the world is adjusting to a new normal and new ways of conducting business."
The Logitech Room Solutions for Barco ClickShare Conference is now available in the Middle East region through specialist providers.