Mindware has announced that Middle East organisations can now leverage the proven ROI benefits of WAN optimisation and application acceleration technology through a new bundle incorporating industry-leading solutions from Microsoft and Riverbed.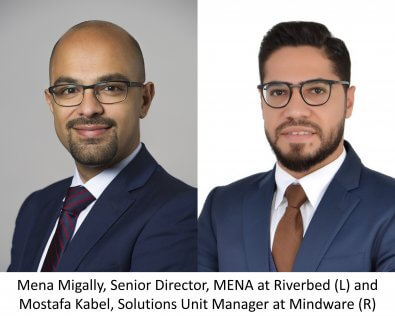 By blending Riverbed SteelHead WAN optimisation and Riverbed SaaS Accelerator with Microsoft Azure and Microsoft 365, Mindware will introduce regional enterprises from all industries in the Middle East to a powerful solution architecture which will enable innovators to accelerate their digital transformation journeys.
"Automation delivers a brave new world of possibilities to enterprises of all types," said Mostafa Kabel, Solutions Unit Manager at Mindware. "By bringing together Riverbed's SteelHead offering and Microsoft's UAE-based Azure locations, we can introduce our regional customers to unprecedented stability and low latency in the operation of their cloud-hosted infrastructure and applications, as well as saving on costly bandwidth upgrades."
As regional cloud migration has gathered steam, end users have faced several challenges in duplicating legacy, on-premises performance levels, with research from Mindware showing that unpredictable network latency can slow SaaS and IaaS application delivery by up to 60 percent. Riverbed's SteelHead WAN optimisation solutions focus on the acceleration of performance for on-premises and cloud-deployed applications, delivering optimal end-user experiences, regardless of distance from the cloud.
Riverbed's WAN Optimisation technology has been the market's leading solution for the last 15 years, improving application performance levels by 33x and reducing bandwidth needs by as much as 99 percent. Riverbed's SaaS Accelerator also offers flexible acceleration for SaaS applications, such as Microsoft 365, Salesforce, Box, ServiceNow and more, delivering up to a 10x performance boost.
In bundling SteelHead and SaaS Accelerator with Microsoft's cloud offerings, Mindware has further enhanced WAN Optimisation and SaaS acceleration. Riverbed for Microsoft IaaS and SaaS clouds delivers best-in-class user experiences across hybrid networks by optimising the performances of cloud-hosted applications. In the Microsoft Cloud, SteelHead helps organisations improve performance SLAs for users regardless of their location and reduce any network latency or enterprise bandwidth limitations they may face.
"As an Azure-Certified and Gold Cloud Platform Competency partner, Riverbed is working with Microsoft at a global level to deliver the ultimate cloud experience. We are now excited to see Mindware make this conveniently available to regional businesses," said Mena Migally, Senior Director, MENA at Riverbed. "By utilising this compelling offering, enterprises in the Middle East will be able to extend the same application acceleration and business benefits they have experienced with their enterprise applications to mission-critical Microsoft cloud workloads."
"This expertly integrated solution allows customers to get back on track with their digitisation ambitions," Kabel explained. "Speed up your migration and accelerate your adoption; optimise your business continuity and disaster recovery strategy with Azure Site Recovery while gaining incredible control over your enterprise applications; and accelerate those apps while enjoying reduced bandwidth consumption. We have found that at its most effective, our WAN Optimisation can deliver SaaS and IaaS applications up to 33 times faster, while using up to 99 percent less bandwidth. Those are extraordinary figures that should appeal to any stakeholder concerned about ROI."
"The world is digital. WAN Optimisation allows you to join that world without compromise, free of the shackles of latency and geography. Such enterprises can innovate at will."