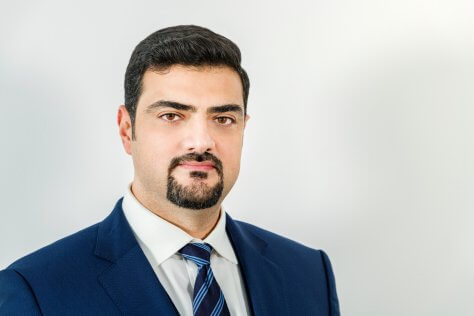 Global cybersecurity firm Bitdefender has appointed Tarek Kuzbari as regional director for the Middle East. The move comes as part of the vendor's strategy to expand its enterprise business in the region by capitalising on the growing market for network traffic analytics (NTA) solutions.
Rafik Hajem, senior managing director, Central Europe, Middle East and North Africa, said, "As of today, several high-profile government entities and enterprises in the region, rely on Bitdefender GravityZone Enterprise Security to safeguard their most critical assets, whether it be in physical, virtualised or cloud environments. With the recent integration of Network Traffic Security Analytics (NTSA) into the GravityZone platform, we can now offer Middle East enterprises a more efficient, comprehensive and layered approach to security―a capability that no other vendor in the industry currently offers. From just a single console, security teams can now threat hunt and conduct investigations, on both the endpoint and the network, saving them considerable time in the detection and remediation of threats."
Using a combination of machine learning and behavior analytics with insights from Bitdefender cloud threat intelligence, NTSA is a plug-and-play, out-of-band solution, with flexible deployment options, that focuses on traffic meta-data and enables analysis over longer periods of time to accurately detect the most sophisticated malware and Advanced Persistent Threats (APTs) with high fidelity. Combined with Bitdefender GravityZone, organisations can quickly remediate security breaches, said the firm.
"Backed by this unique value proposition, we are now poised to expand our Middle East presence and market share. With over 18 years of regional cybersecurity experience, Kuzbari has a keen awareness of some of the most pressing challenges facing local enterprises and governments, a thorough understanding of the market dynamics and competitive landscape, strong relationships with customers and partners and an acute business acumen. I am confident that he is the right leader to drive customer acquisition across this strategically important region for the company, and spearhead our next phase of growth," added Hajem.
In his new role, Kuzbari will focus on growing Bitdefender's enterprise sales, particularly in the government, finance, telco, manufacturing and healthcare sectors. With a 100 percent channel driven go-to-market strategy in the Middle East, Kuzbari will also focus on expanding the company's channel ecosystem and will work closely with the channel team to rollout several enhancements―specifically around enablement, deal protection and margin growth—to the partner programme, over the next 12 to 18 months.
"I have been closely tracking Bitdefender's growth over the last few years and have been particularly impressed by their innovation―a big reason why today over 500 million endpoints are protected by Bitdefender technology. I firmly believe that the addition of NTSA to an already strong portfolio of EPP, EDR and threat intelligence solutions, gives Bitdefender a vital competitive advantage and an opportunity to address a gap in the regional market by meeting the growing demand from enterprises for more holistic, AI-driven cybersecurity solutions," said Kuzbari. "Bitdefender is on a strong growth trajectory here in the Middle East and I look forward to leading the regional team on this journey."