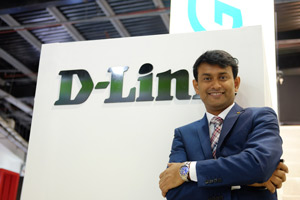 Global connectivity solutions provider D-Link Corporation has launched its all-new Exo Smart Mesh Wi-Fi Router series, adding to its portfolio of seamless connection solutions for the home, in the Middle East and Africa (MEA) market.
According to the vendor, its next-generation routers offer high-performance Wi-Fi connectivity combined with McAfee protection, providing a faster and more secure home network.
Sakkeer Hussain, director, Sales and Marketing, D-Link Middle East and Africa (MEA), said the launch of the all-new EXO Smart Mesh Wi-Fi Routers, is a "powerful addition to D-Link's portfolio of seamless connection solutions for the home."
He added, "The routers feature a five-year McAfee Secure Home Platform subscription; protecting every device on a connected home network by blocking suspicious connections and access to malicious content. Comprehensive parental controls prevent access to inappropriate content and can be used to set up Wi-Fi schedules."
The routers also come with a two-year subscription to McAfee LiveSafe, which allows antivirus software to be installed on an unlimited number of computers, tablets and smartphones.
McAfee Secure Home Platform includes malicious site blocking, connection anomaly and botnet detection, advanced network controls to hide your devices from hackers, automatically disconnect selected devices when you are away from home and a comprehensive parental control with customisable content filtering, profiles and Wi-Fi scheduling.
The new routers feature best-in-class 802.11ac Wave 2 allowing for dual-band and tri-band combined wireless speeds of up to 1,900 Mbps, 2,533 Mbps and 3,000 Mbps. For even wider coverage, simply add compatible D-Link Wi-Fi Mesh extenders to create a seamless, self-optimising, mesh wireless network that allows you to move around without disconnection.
Hussain said, "People want internet access that is as safe and secure, as it is fast and reliable. With McAfee protection, our new Exo routers provide enhanced cybersecurity for the home network as well as on-the-go protection when users are away from the home."
Other key features include:
Voice control support with Google Assistant and Amazon Alexa enabled devices.
The SPEEDTEST™ powered routers allow you to find out the true speed of your internet, straight from the router.
Automatically downloads and installs firmware updates to ensure the best protection and latest features.
Powerful 880 MHz dual-core processor to handle intensive network activity, allowing users to enjoy buffer-free video streaming, lag-free gaming and lightning-fast internet surfing.
He added that D-Link EXO Smart Mesh Wi-Fi Routers, eliminates your pesky dead zones permanently and get a truly seamless home networks with less Wi-Fi disruption.
"With Wi-Fi Mesh, you can also turbocharge your whole-home Wi-Fi with powerful and intelligent features, so you finally get Wi-Fi that works for you, on your terms, automatically," he said.
The D-Link EXO Smart Mesh Wi-Fi Routers is commercially available in the MEA market through the company's retail and traditional reseller channels from May 2019.