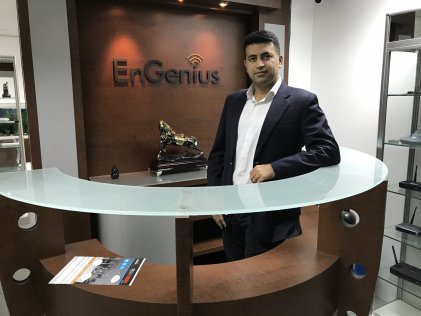 Networking vendor EnGenius International Dubai is participating at the 38th edition of GITEX Technology Week 2018, where it is showcasing the new EnGenius EWS355AP 802.11ac Wave 2 Managed Indoor Wireless Access Point and EnGenius ENS620EXT 11ac Wave 2 Outdoor Access Point.
According to the networking vendor, the EWS355AP's advanced hardware and latest technology allows more wireless clients to connect for demanding business use. In addition, the company said the AP's Beamforming function provides the optimal signal strength to improve the overall client experience.
The vendor said that configuring multiple APs, ensures seamless, reliable connectivity for users as they roam about the network.
Designed for peak performance in harsh climates, the ENS620EXT on the other hand features an IP55-rated waterproof and dustproof enclosure ensuring it can withstand harsh outdoor and indoor environments, stated the company. The ENS620EXT AP withstands prolonged exposure outdoors to sunlight, extreme cold, frost, snow, rain, hail, heat, and humidity, and indoors where temperature may be a factor.
Alishan Zaidi, regional sales manager, EnGenius International Dubai said, "We are very excited and proud to be participating at this year's GITEX Technology Week together with our distributor Bulwark Technologies. The exhibition is always a highlight for us and we cannot wait to promote our new range of indoor and outdoor wireless APs to channel partners and their end user customers."
Zaidi added, "We will be promoting the EnGenius EWS355AP and EnGenius ENS620EXT at the Bulwark stand in Sheikh Rashid Hall, stand SR-D6."
According to Zaidi, the EnGenius EWS355AP is powered by a powerful Qualcomm 717 MHz quad-core processor, which can reach speeds of up to 867 Mbps on the 5 GHz frequency band and up to 400 Mbps on the 2.4 GHz frequency band.
In addition, Zaidi explained that the EWS355AP harnesses Wave 2 MU-MIMO technology to meet the Wi-Fi business demands of laptops, tablets, and other devices that tackle large volumes of email, conduct online research, analyse Big Data, and transfer high-resolution marketing collateral and multimedia files.
He said on the Bulwark stand EnGenius will be promoting the EWS355AP, which can operate as a stand-alone AP, centrally managed by an EnGenius Controller switch, or as part of a scalable network management solution, via ezMaster.
"Users will be able to see demos on how they can get an overall view of their network or dive into the most granular data from anywhere," he said.
Zaidi added that apart from showcasing the EWS355AP access points, visitors to the stand will also understand how to connect and power the ENS620EXT via its Gigabit Power-over-Ethernet (PoE) port in locations where power outlets are limited or unavailable, such as under the eaves of roofs, on light poles or in other remote locations. "As mobile technology advances, more devices will move onto the 5 GHz band. As a result, network administrators today must plan for the substantial impact this increase in connected devices will have on their network's capacity use on both bands," he said.
He explained that the ENS620EXT access point allows administrators to utilise the most advanced Wi-Fi technology standard available while supporting the future of mobile technology for their users.
"The ENS620EXT access handles densely crowded outdoor client environments simultaneously through its two spatial streams and Beamforming technology, which focuses the antenna signal directly to the respective client devices, providing optimal signal and reception reliability for users," he said.