Global cybersecurity firm ESET is unveiling the latest version of its Endpoint Detection and Response (EDR) solution, ESET Enterprise Inspector during GITEX Technology Week.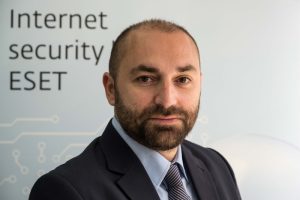 Visitors at the show also have the chance to see a preview of on premise and cloud management consoles, which the company will release in November. According to ESET, the new solutions will bring additional benefits including integrated Full Disk Encryption option and additional Machine Learning layer of protection in the endpoint.
"GITEX is the region's most-awaited tech event and it has always given us the opportunity to meet with existing and potential partners and clients in a more relaxed environment. It is also a good platform for us to communicate the latest and upcoming advancements with our industry peers," said Dimitris Raekos, general manager, ESET Middle East.
In addition to sharing updates about its latest solutions as well as its cybersecurity strategies, ESET seeks to educate GITEX visitors how to avoid traps of popular marketing buzzword in order to effectively protect their networks and digital assets.
"There are many trends out there, such as artificial intelligence and blockchain. However, we believe there are three major trends that will significantly impact the cybersecurity landscape," explained Raekos.
"Firstly, data protection, which will be a major issue for small and large companies as this will push them to be compliant with regulations or face the consequences of data breaches.
"The second trend is the rise of cloud service providers. The establishment of local data centres by global cloud providers here in the Middle East will drive the next wave of cloud migrations as enterprise decision-makers feel more secure hosting their assets in the cloud. Lastly, the imminent roll out of 5G networks, which will drive the number of IoT devices that will bring both benefits and security risks for enterprises."
According to Raekos, ESET's holistic approach in cybersecurity can assist companies adapt in the growing threat landscape. "We have been developing cybersecurity solutions for more than 30 years now and are continuously evolving. To be effective in cybersecurity requires multiple layers of protection as well as human intelligence. That is why ESET has 13 research and development centres around the globe with more than 175 IT and security experts. Besides our existing solutions, we are constantly updated to anticipate market needs and we are going to extend our portfolio by additional tools and services in the near future," he said.
ESET is available in Sheikh Rashid Hall, stand booth SR-21.