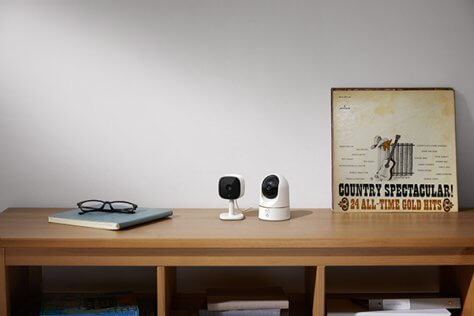 As we transition back to our regular lifestyles here in the UAE and slowly move back to a normal working schedule, a number of new challenges present themselves for parents, pet-owners and others who have someone at home while they are in the office. Wanting to be able to keep an eye on our loved ones who are still at home is only natural. Understanding this necessity, Eufy Security brings us their latest Indoor cams with a whole lot of features to address all our requirements.
The latest selection of cameras includes the Eufy Security Indoor Cam 2K and Indoor Cam 2K Pan and Tilt. As the name suggests, the main difference between the two cameras is the functionality to pan and tilt. Apart from this, both cameras come with a wide range of features including 2K video resolution and Smart AI which detects movement of humans as well as pets and can also listen for a crying baby too. This is a great feature for parents of newborns and toddlers, because you will get an alert and can speak to them via the two-way communication feature built into both the devices.
The latest Indoor Cameras from eufy Security by Anker sports the following features:
2K Resolution. eufy Indoor Cam outputs 2304 x 1296 resolution, which is 1.5x pixels of 1080p.
Wide Dynamic Range. Indoor cams are usually installed facing away from windows or doorways to prevent glare from distorting the image. With Wide Dynamic Range, eufy Indoor Cam balances the bright and dark parts for crystal-clear recordings.
Enhanced Night Vision. With high power infrared light and enhanced ISP technology, eufy Indoor Cam can see background details up to 10 meters away and facial details up to 6 meters away—even in dark environments.
Advanced Human AI. eufy Indoor Cam can accurately detect the human body and face, instantly sending you an alert whenever either is detected within your home.
Advanced Pet AI. eufy Indoor Cam can accurately detect dogs and cats, capturing their daily activities. A dog barking detection mode will be added at a later date, allowing you to check the status and needs of your pet dog anytime, anywhere.
Activity Zone. If an activity zone is set, and the detected object is within the zone, eufy Indoor Cam considers it a valid event. The camera will then notify the user and continue recording. If no object is detected within the zone, eufy Indoor Cam will not record or send notifications.
Instant Smart Alert. When eufy Indoor Cam detects pet activity or barking, the eufy Security app will instantly send you an alert. Learn about your pet's needs anytime, anywhere.
Pet Command. You can pre-record commands which will automatically play when the camera detects your pet entering the activity zone. Or you can talk directly to your pet via the app when you receive an alert.
Pet Diary. eufy Indoor Cam can capture your pet's highlight moments throughout the day and transform them into an awesome 60-second video.
Works with Apple HomeKit ,Alexa & google Assistant. Connect eufy Indoor Cam to your smart home platform of choice for complete voice control over your surveillance system.
Snapshot Notifications. Receive snapshot (human or pet) notifications so that you can quickly check what is happening in your home.
Baby Crying Detection. eufy Indoor Cam can detect when a baby cries, sending you a notification instantly.
Local & Cloud Storage. Supports SD card local storage (up to 128GB) as well as cloud storage.
Two-Way Audio. Talk with friends, family, and pets. Use the app to send a quick voice message via the camera when your pet or child misbehaves.
24/7 Recording. Supports continuous recording via a microSD card*. Save every moment
Multi-User Access. Share access to your eufy Indoor Cam as well as interesting moments and clips with up to 3 family members.
Time Lapse. eufy Indoor Cam can automatically capture the events of the day with beautiful time-lapse video.
Motion Tracking*(Only with pan &tilt ). Automatically tracks targets when motion is detected.
eufy Indoor Cam supports 3 installation methods:
Place on a shelf, table, bookcast
Wall mount
Ceiling mount
Price and Availability
You can buy at leading electronic retailers like Jumbo, Virgin, Sharaf DG, Emax, Danube Home, homesmith, Lulu and online on noon.com and amazon.ae