During its fourth annual Middle East Innovation Day, Huawei explored how new partnerships in the areas of AI and 5G are now scaling digital services to more people, homes, and organisations than ever before.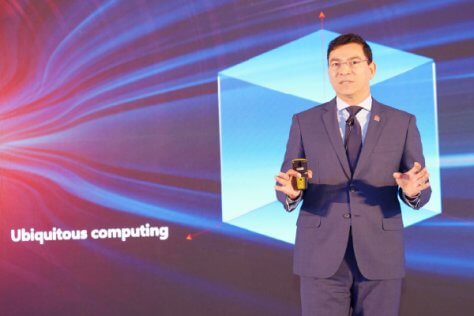 The event was held on the second day of GITEX Technology Week at the Dubai World Trade Centre.
Incorporating three bespoke sessions, the day included the following discussions: a 5G Ecosystem Conference under the title "5G, Gear Up"; an AI Conference under the theme "Advance Intelligence", and a "Huawei Developer Day Dubai 2019" session, which focused on building a better ecosystem for Huawei partners and developers.
Huawei Innovation Day was attended by Jawad Abbasi, Head of MENA, GSMA, and Huawei's distinguished customers from more than 20 telecom operators in the Middle East, and industry partners among other industry leaders, the total attendance exceeded 300.
Involving regulators, telecom operators, industry partners, analysts, and other ecosystem players, the conference reviewed global 5G case studies and explored how 5G is bringing infinite possibilities not only to individuals but to vertical industries across the Middle East. To date, Huawei has secured more than 50 commercial 5G contracts while shipping more than 200,000 base stations worldwide.
Anjian, President of Carrier Networks Business Group, Huawei Middle East, noted: "Since 2009, Huawei has invested 4 billion USD in 5G research. We are not only providing the best 5G network, but also willing to explore 5G business success with our customers and partners. To reach customer-oriented business success, we are committed to increasing investment in three major areas: 1. Continuous investment in 5G technology capability, which adapts to customers' business requirements, and brings infinite possibilities not only for person but also for industries. 2. In terms of business development and 5G use case exploration, we will persistent invest human and financial resources in business development to provide more 5G use case solutions going to market with our customers; 3. Further developing the 5G ecosystem platform, today we will announce Huawei Middle East OpenLab establishment, to work with our customers and partners to ensure the delivery of the best possible solutions that contribute to business growth and success for them. We will keep expanding and enhancing our collaborative partnership in the Middle East to cultivate a strong and inclusive 5G ecosystem in its journey to building a fully connected intelligent Middle East."
Alaa ElShimy, Managing Director and Vice President, Huawei Enterprise Business Group, added: "The increasing scale of intelligent technologies are bringing disruptive changes to enterprises across the Middle East. With the rapid development of cutting-edge technologies such as AI, a diverse range of applications and massive amounts of data are being generated, which pose demanding requirements on real-time data processing. Data infrastructures must be upgraded to fulfill these demands. We believe that AI will promote innovation across the region and will change the way entire industries are run."
Huawei's latest solutions and global case studies can be seen  at its exhibition stand located at Stand Z2-A10 in Za'abeel Hall 2, under the theme "Building a Fully Connected, Intelligent World".