The IT giant Dell Technologies has made a string of announcements involving tie-ups with other major players at its annual Dell Technologies World gathering.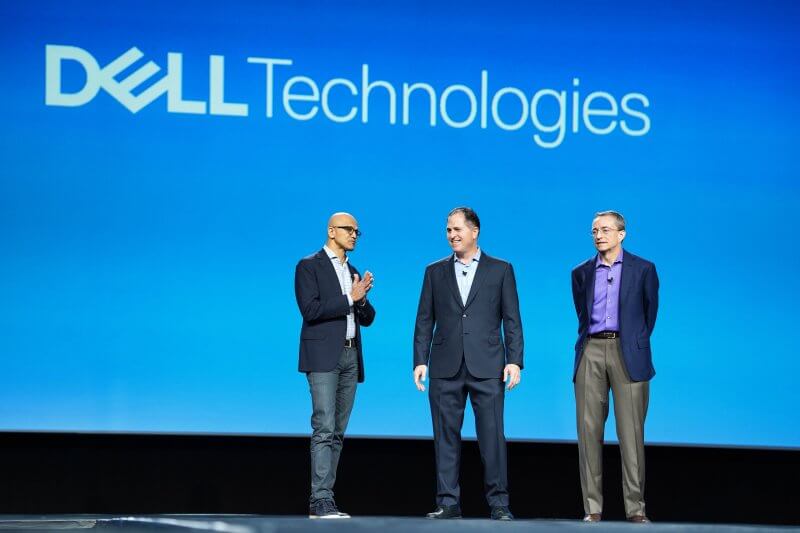 The Las Vegas event, which brings together more than 15,000 IT specialists, has seen the launch of three joint offerings with Microsoft and with VMware, the software virtualisation company that is four-fifths owned by Dell.
The trio of companies announced improved compatibility in their cloud computing infrastructure, in their virtual desktops and in their workspace technology.
In terms of the cloud, the companies will now offer what is described as "a fully native, supported and certified VMware cloud infrastructure" on Microsoft's cloud service, Microsoft Azure.
It was announced by Michael Dell, Dell Technologies' founder and CEO, and both Satya Nadella, Microsoft's CEO, and Patrick Gelsinger, the CEO of VMware.
This collaboration represents a significant shift from events of two years ago, when Microsoft launched a preview of VMware virtualisation on Microsoft Azure. However, VMware pointedly stated at the time that this had not been developed with its cooperation.
Commentators have said that the tie-up is a response to customers choosing to use multiple cloud providers in a hybrid cloud, a set up that has become ubiquitous. By increasing the compatibility of their services, providers are said to be reducing the chance that they will become shut out of the market.
Jeff Clarke, Dell's vice chairman for products and operations, said that it was now not unusual for an organisation to have more than five or more clouds.
"We see a multi-cloud world as one that leads to greater flexibility. Ninety-three percent of organisations are using multi-clouds," he said.
Speaking at a briefing session with journalists after the main announcement, Gelsinger said that VMware's strategy had been to "keep open interfaces".
"Customers want fewer, more strategic vendors," he said.
The other main collaboration announcements between Dell, Microsoft and VMware included an improvement in the capabilities of Microsoft Windows Virtual Desktop. This will use VMware Horizon Cloud on Microsoft Azure.
The third main initiative involved the management of Office 365, with the launch of a "cloud-based integration" with Azure Active Directory and Microsoft Intune.
This year's Dell Technologies World, which is the largest ever such event, runs until Thursday.