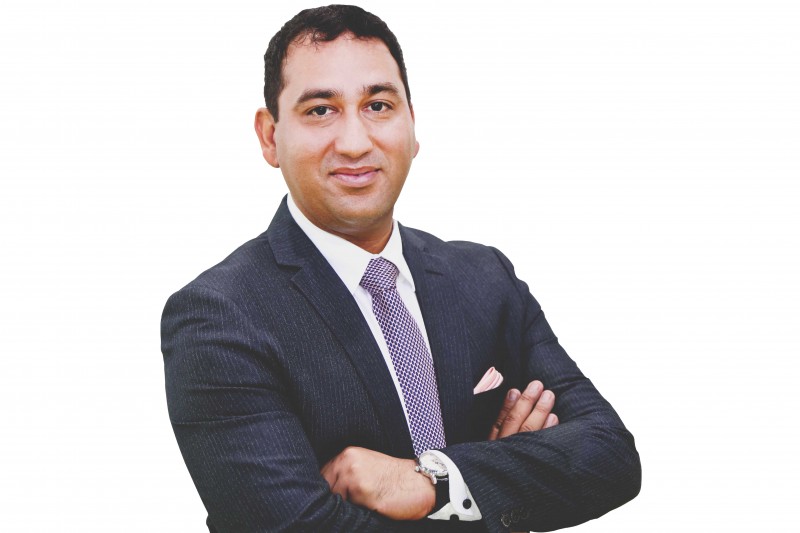 Niranj Sangal, group CEO, OMA Emirates, elaborates on the roadmap the company has undertaken to realise the digital goals of the region.
UAE-based payment solutions provider OMA Emirates aims to accelerate the region's drive to digital transformation with a host of digital solutions and services.
Advanced technologies such as artificial intelligence (AI) and robotics are enabling enhanced customer experiences. Increasingly not only customers but regional governments as well are seeking seamless digital commerce solutions to enable efficient and faster processes.
OMA Emirates, a frontrunner in the payments industry, has recently moved its operations to a dedicated building in Sharjah, UAE, called OMA Group, where all its companies have been integrated into one entity.
Niranj Sangal, group CEO, OMA Emirates, says, "Tapping into the market opportunities and identifying the potential, we have consolidated our business into a single unit. We take pride in announcing that our new headquarters building is completely cashless and an ideal premise to demonstrate our innovative digital portfolio to our customers."
Keeping in line with the region's digital ambitions, the company is working on several related initiatives. One of them includes retail chatbots, which is expected to be released early next year. According to Sangal, he expects it to be more of a service-based revenue. The company is also working extensively with AI.
"We will be launching our first digital banking concept before the end of the year, which will be completely driven by AI. It will be an unmanned branch where customers can walk in and avail regular services instantly such as opening an account and depositing or withdrawing cash. All that the customer would need is his or her card to tap in and enter."
While a number of players have done pilots for similar deployments, the concern is around training customers to utilise the facilities effectively. Lack of knowledge can deter customers from embracing these kinds of digital initiatives.
"This is why we have built an AI-enabled training module, which directs customers through the speaker when they walk into the unmanned digital bank. Customers could also simply plug their headphones into the machine to learn how to navigate the digital branch. This is what we will be demonstrating within our new headquarters," adds Sangal.
Additionally, the company is also experimenting if it can use AI with hologram technology.
"We have not tested it yet, but the objective is that it will be a virtual assistant that takes customers across everywhere. When customers tap their card, the virtual assistant reads their name and helps to guide them in their service request."
Although it does seem like a scene off a sci-fi movie, Sangal says we could see these kinds of implementations as soon as within the next five years in the region.
"For these kinds of implementations to be a norm, a high literacy rate is required within customers and the related ecosystem. While we have seen a few use-cases in mature markets, it really depends on how educated and adaptive the customers are."
OMA Emirates is also planning to introduce a similar digital concept for the retail space.
"We are trying to create a store that can offer customers seamless experiences. A scenario where customers can walk in, use their phones to scan a product and pay for it, and then walk away, confident that their purchases will be delivered to their desired location at their selected convenient time."
Sangal expects digital and mobile commerce to grow exponentially over the next five years.
At the new OMA Emirates headquarters, all transactions are done through a digital wallet. With plans to house a gym, grocery store and cafeteria, employees don't need to worry about having exact change or any cash at all, for that matter.
He says, "We don't accept any cash. Our digital wallet solution was launched mid of this year. We have invested into the technology and would like to make it open-end for every user to use it. Even small mom-and-pop stores are keen on getting on the digital bandwagon today. These store owners can easily use our product and white label it to become a part of the digital payment seller ecosystem."
Over the course of 2019, OMA Emirates aims to continue its drive to create a network of solutions to enable digital lifestyle more effortlessly.
"We will continue to expand into new markets and acquire companies that can augment what we do. We are looking to enter geographies such as Indonesia and Senegal soon. We are already present in Malaysia, Cambodia, Vietnam, Tanzania and Kenya. We are hoping to enter at least seven new countries in the next year alone. Our aim is to expand our digital wallet and digital banking solutions and endorse the cashless ecosystem in every country where we will invest significantly."
Sangal added that the near future will see intensified use-cases of digital bots, AI and blockchain technologies.