OPPO has officially launched its newest smartphone series, Reno, in the Middle East.
Held in Dubai, OPPO's Reno series' international launch saw the firm introduce two new smartphones: OPPO Reno 10x Zoom Edition and the Reno Edition.
Both devices sport a notch-free full view OLED display as well as a "one-of-a-kind" side-swing, pop-up selfie camera.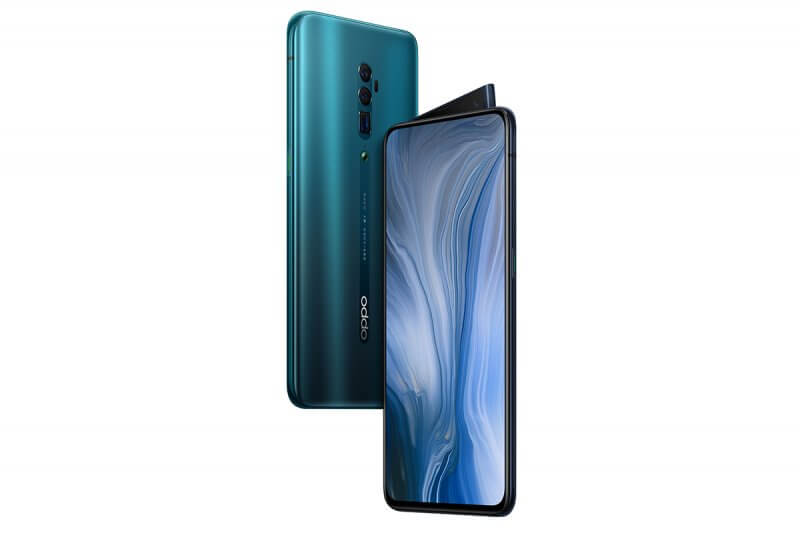 The Reno version will be available for pre-order in the UAE starting April 17 and Saudi on April, 18th. Sales beginning from April 22nd in UAE and April, 25th in Saudi. The OPPO Reno Edition will be available in 6GB RAM + 256GB storage option at AED 1,899 in UAE and SAR 1,899 in Saudi Arabia and the price and available date of OPPO Reno 10x Zoom in an 8GB RAM + 256GB storage version will be revealed later. Customer can also opt to purchase the new OPPO devices from Etisalat with its smart pay plans up to 24 months.
The OPPO Reno 10x Zoom Edition goes above and beyond with a tri-lens full-focal length capability, including a 48MP HD primary lens, a 13MP telephoto lens, and an 8MP wide angle lens.
According to the company, these cameras work together to achieve a full-focal-length coverage of 16mm-160mm, thus offering 10x hybrid zoom. The primary lens of the Reno 10x Zoom Edition employs optical image stabilisation (OIS) and a closed-loop focusing motor, as well as three different focus modes so you don't miss any special moments. The ultra-wide-angle camera of the Reno 10x Zoom Edition offers users a 120° wide angle camera, which makes it easier to capture a wider range and multi-person portrait.
The Reno 10x Zoom Edition also supports 4K UHD video recording at 60fps, equipped with optical image stabilization and the latest electronic image stabilization.
The Reno Edition features the same pop-up 16MP front-facing camera as well as a 48MP main camera.
The Reno series' unique 16MP front-facing camera uses a Pivot Rising Structure to pop up on demand. The motorised Pivot Rising Structure has passed strict quality testing standards and can be used for more than 200,000 times without fail. Even if average users use it roughly 100 times per day, it can maintain over five years of usage. Furthermore, OPPO's designed a drop protection mechanism whereby the phone can sense in real time if the phone is in free-fall, and automatically retract the camera to prevent damage.
Available in two colour grades, Ocean Green and Jet Black, both Reno models feature a matted texture on the layer beneath its glass façade, delivering a more delicate touch without compromising on the vitality of colour.
The Reno 10x Zoom Edition also features a 6.6-inch notch-less panoramic screen, protected by Corning Gorilla Glass 6. The bezels on both sides are only 1.63mm, of which the lower bezel is only 3.5mm. The notch-less full screen achieves a stunning 93.1% screen-to-body ratio, with no ports and no interference.
The Reno 10x Zoom Edition is equipped with the new VOOC 3.0 fast-charging feature. It complements an already large 4,065mAh battery.
Consumers will also enjoy a Snapdragon 855 chipset, with LPDDR4x Standard Memory and UFS 2.1 Flash storage, all of which contribute to an outstanding user experience. The Reno Edition has a Snapdragon 710 chipset and a 3,765mAh battery.
During the event, OPPO also announced a new "OPPO MEA 5G Landing Project" with leading regional carrier Etisalat and Zain. The project will further enhance 5G development in the region after the first 5G smartphone commercial co-test from both parties earlier this month.
Andy Shi, President, OPPO Middle East and Africa, said, "Reno represents the evolution of OPPO; it features a brand-new design concept, philosophy, and communication model. This is a smartphone for the people who want to make waves, for the dream-chasers and the trendsetters who value style, innovation, and premium functionality. The UAE is also home to a blossoming 5G ecosystem, with collaboration with leading carriers like Etisalat and Zain users could experience 5G at the earliest."