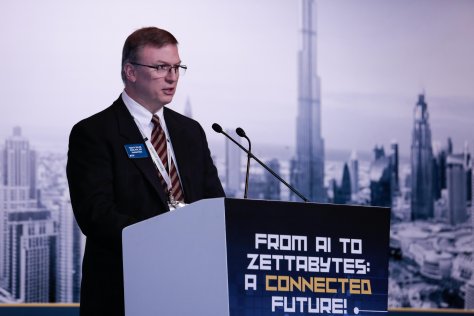 One of the main highlights of the 2019 edition of BICSI Middle East and Africa Conference, taking place in Dubai, UAE, was the discussions around the increasing dependence on digital infrastructure.
Keynote speaker Mark Acton, independent consultant and non-exec director, Ekkosense, Chelmsford, Essex, United Kingdom, said that digital infrastructure should be considered as a new utility today, similar to water and electricity.
"The importance of digital infrastructure including data centres to our daily lives cannot be underestimated. However, at the same time, it is also crucial to understand the risk associated with these digital requirements and the implications we face as an industry."
According to Acton, advancing technologies such as cloud, edge, AI, 5G, IoT and Blockchain do play a critical role in building robust digital environments. He went on to explain how each of these technologies are developing and impacting the way we work and live.
"AI takes the 'machine' out of the man. It will help us automate repetitive tasks that was otherwise carried out by humans."
While Acton is certain that AI technologies will automate the industry, he doesn't think it will fundamentally change networks.
"But it has the potential to fundamentally change cybersecurity. Most cybersecurity products now come with intelligence embedded in them. Humans are not quick enough to spot the risks before it happens."
He added, "I have not seen a data centre where humans are not needed, although it might happen over time. However, right now humans are required for maintaining and in some cases still doing repetitive tasks."
The two-day conference also saw a presentation by Todd Taylor, RCDD, NTS, OSP,  BICSI president-elect, which explored technology growth, the top technologies driving change and the importance of having a strong infrastructure to support a connected future.
Taylor said, "BICSI's main focus is to help educate its members, installers, integrators as well as end-users in the newer advancing technologies such as 5G, AI and augmented reality. Another reason why we come to these events is to gain education and training on the growing infrastructure to support those advancing technologies."
He emphasised how fast technology is advancing today and why it is important for customers to keep up. His presentation also encouraged attendees to not to forget the basic infrastructure, as strong digital infrastructures are necessary for a connected future.
"We have to remember that the basis for a connected future is a robust infrastructure, which includes wired as well as wireless technologies."