Cybersecurity company Sophos is achieving double-digit growth in the Middle East and Africa – and the way that its solutions connect both network and endpoint is likely to be part of the appeal.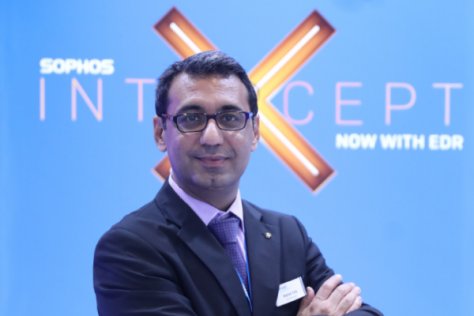 Sophos's technology employs artificial intelligence (AI) at both sides, a key part of its ability to handle unknown threats.
"We are pioneering this particular technology. Security has to be on both sides: You have to cover your perimeter security and your end-user security. Currently providers are either taking care of networks or perimeter or endpoint," said Harish Chib, Sophos's vice president sales for the Middle East and Africa.
Typically, says Chib, vendors are unable to connect network and endpoint and share information between them.
By contrast, Chib says that Sophos's technology is focused on doing just this, helped by the fact that the company's solutions at both ends are developed in-house and have not been sourced from third parties.
With annual growth comfortably in the double digits, revenue in this region is doubling every three to four years, says Chib, with organisations realising the important of cybersecurity as an investment.
"Businesses are implementing security because of the digital transformation across the Middle East and Africa," he said.
"The important goal now is data, and businesses went to make sure they're protecting their digital assets. If, as a business, your information is leaked out, the reputation, the goodwill is gone.
"You will be making your brand zero if someone realises your information is available outside your perimeter."
Chib says that Sophos can assist businesses with solutions that will ensure their assets are protected as they migrate to the cloud.
"This is where a company like Sophos comes into play – to ensure that all your digital information is protected," he said.
In future, attacks will increasingly be user-focused and targeted, says Chib, and they will often use AI to highlight vulnerabilities. To counter this, Sophos's technology uses AI to prevent such attacks.
"We use AI to understand what is the behaviour of these particular attacks. It's used to analyse the behaviour patterns, any activity not documented previously or against the normal trend," he said.
Also looking ahead, Chib predicts that security will be offered more frequently on a "security as a service" basis, which is sometimes described, in approximate terms, as security being outsourced in a model based around the cloud. Companies will be saying, according to Chib, that they want cybersecurity specialists to manage their security on a daily basis.
"There's so much need for security. Government has done its job in creating awareness and making laws. Now it's time for businesses to implement that. The growth will continue," he said.