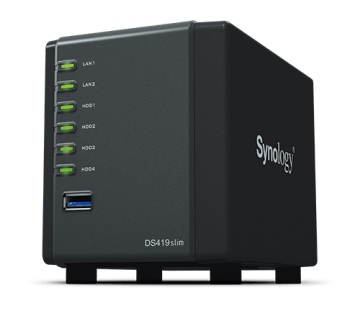 Synology has launched DiskStation DS419slim, a 4-bay NAS equipped with 2.5-inch drive support. Underneath the palm-sized chassis, it supports up to 20TB maximum raw capacity with four 2.5-inch HDDs.
"Nowadays, many people are still struggling with managing files scattered across public clouds, USB drives, or personal computers. As a clever and reliable personal cloud, DS419slim helps keep your precious photos, videos, and documents in order, bringing everything under control with its powerful file management capabilities," said Katarina Shao, product manager, Synology Inc.
"Not only can you easily access, share, and synchronise all your files across multiple platforms, but you can also own a multimedia library where you can stream digital content on your mobile devices on the go."
With its ultra-compact design and four 2.5-inch HDD/SSD drive support, DS419slim provides great flexibility in both RAID configuration and deployment. Powered by a dual-core processor, DS419slim delivers superb performance while consuming only 20.28 watts during operation. It also has sequential throughput at over 223 MB/s reading and is equipped with dual 1GbE LAN ports for failover and Link Aggregation. Designed compactly in four 2.5-inches hot swappable drive trays, it is portable with cube-shaped NAS at less than 15cm with 700 grams in weight. It comes with maximum raw capacity of 20TB with 4 x 5TB 2.5-inch drives. 
DS419slim runs on DiskStation Manager, the advanced and intuitive operating system for Synology NAS devices, with various applications offered to enhance work productivity.