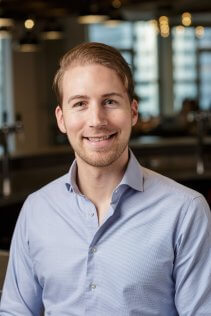 In a detailed conversation with TahawulTech.com, Lennart van der Ziel, CEO, Travis, explains how the firm aims to bridge communication and language barriers within the region through its dedicated offerings.
Can you give an overview of Travis' business in the region? 
In the UAE, we have two locations in Dubai where we showcase our flagship offering Travis Touch – one is at Dubai Mall and the other is at Times Square Center by Sharaf DG. We also sell it online via Sharaf DG. We also have our own dedicated e-commerce portal, which is seeing month-over-month visitor growth from the region.
Our go-to-market strategy includes both partner-led and direct sales. We have plans to sell our offerings on Amazon UAE as well. Currently, we are reviewing the terms and conditions, and are looking to begin sales from May 2019. During our visit last month, we have found couple of potential business partners for our partner-led business. As a business, we have been quite strong at this two-pronged approach – establishing our direct sales pipeline to drive demand and allowing for the market to validate our products and then transitioning to a more partner-led approach once demand picks up. This paves the way for successful cooperation with our partners.
Can you share Travis' milestones in 2018?
The key milestones for Travis in 2018 include the launch of our second-generation hardware device 'Travis Touch Plus', which has seen a revamp of the hardware. It is now equipped with a touch screen for ease of use and sports wireless charging and increased linguistic support from 80+ to 100+ languages. We have also ramped up the development of software updates.
A big part of our success comes from our strength in software. We understood early on that building a device and just putting it out there isn't enough. Constant software improvements and development are necessary to keep growing and staying ahead of the curve. We currently support translations to and from over 105 languages and are working to improve and add translations continuously. We passed the 200.000 devices sold mark in December and are working on a third generation for our pocket translator. 2018 also saw us start the development of an AI voice assistant, which will be able to answer travel-related questions such as weather inquiries, currency conversion and other travel information.
What factors have contributed to your growth in the region and how do they impact your goals for this year? 
Strong sales in Europe and the United States have sparked interest in the Middle East and we've seen a big uptake in inquiries from possible retail and wholesale partners. At the same time, a push from our end to provide samples for reviews arranged by our PR agency and promotion actives done by Sharaf DG have further helped boost our growth in the region. Our big goal for the Middle East is to provide Travis Touch Plus translation devices for the Dubai EXPO 2020. This would help foster communication on a whole new level when hundreds of nationalities come together for a milestone event such as the EXPO 2020. Communication – really understanding each other – has been more important than ever and we aim to lead this new wave of inter language and inter cultural communication within the region.
Can you share your go-to-market and expansion strategies for the region? 
We see a great emphasis on technology, global trade and tourism in the nation's administrative policies and international relationships. In 2019, we are reflecting on the way the UAE population has grown more diverse and how its vibrant expatriate community (which makes up around 80% of the population) has had a profound impact on the country's culture. Our strategies involve working with a handful of local distributors who have B2B channels, e.g. bank, airport, hotel, hospital, expert association and schools and so on. For banks and hospitals, we will let them try our device to improve their customer experiences. For hotels, airports and tourist centers, we will let them try our devices to improve customer experiences and provide a "rental model" for tourists to communicate / understand the local cultures. For schools, they can use our device to practice different languages. For expats and their families, our device can help them pick up daily life communications sooner.
Are there any challenges operating in the Middle East region? How is Travis addressing them? 
It is challenging being a European business entering the Middle East market. Strong partners will play a crucial role for us this year. Although, we have the language barrier covered, understanding legal requirements (for example, certification of the hardware) will be key.
Can you share market plans and initiatives lined up for this year? 
2019 is a key year for Travis. We've grown tremendously in just the two years we've been around and are extremely proud of our achievements till date. The Middle East has a lot of potential and we're aiming to be aggressive in this market this year to establish a strong foothold. A new generation of pocket Translators is in the pipeline and exciting software advances (the AI voice assistant and ever improving translation technology) are what we're working on to increase our lead on the competition.
How do you see the space you operate in evolve over the next two years?  
With EXPO 2020 around the corner, we see a huge potential for the Middle Eastern market and we are developing more functions for tourist convenience. For example, we have a travel assistant function that can be used to find out the exchange rate or weather by voice command. We see an increasing demand to solve language barriers during meetings and conferences. Traditionally, a translator would be present – or in most cases there are no translators, which lead to misunderstandings and people outright not understanding each other. Travis is working on a meeting translation tool which displays live subtitles in one or multiple languages (this doesn't have to be done with our device and can be used on any website browser, mobile phone and computer). As Dubai and several other large cities in the Middle East function as a global hub for conferences and meetings, we are banking heavily on the rollout of this technology in the region as a springboard to other continents.