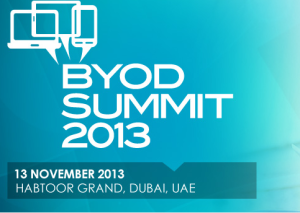 CNME is this week set to host its BYOD Summit 2013, the Middle East's first technology to conference dedicated entirely to the bring-your-own-device trend.
The event will take place on Wednesday, November 13, and will be held at the Habtoor Grand Hotel, Dubai.
Featuring an agenda packed full of the region's top speakers, the event wlll tackle such issues as corporate data security on personal devices, how to combat the growing threat of mobile malware, and how to create the perfect BYOD platform.
Click here to view the agenda.
According to Cisco Consulting Services research, 95 percent of organisations globally now allow employee-owned devices in some way. And while some Middle Eastern businesses are sticking firmly to their corporate-device guns, many more are taking the stance that the trend cannot be stopped, and have taken the plunge into BYOD.
But organisations face significant hurdles before being able to boast of a perfect BYOD programme.
Security issues abound where BYOD is concerned – employees are now accessing company networks with personal devices, which may or may not have malware on them. This means that network managers are at pains to limit the damage that can be done to corporate networks while still allowing corporate services to be access on personal devices.
Meanwhile, the question of data privacy remains unanswered in many cases – who is responsible for corporate data on a personal device, and does a company have the right to remotely wipe a personal phone if it feels its own data is at risk?
These are just some of the issues that will be tackled during the BYOD Summit 2013.
Click here to register, and become part of the Middle East's first even to seriously take on the BYOD trend.