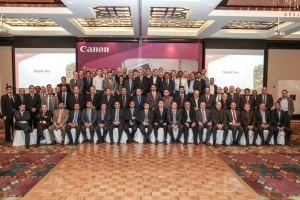 Canon Middle East recently hosted its annual, regional LFP reseller seminar in Dubai, previewing over seven new large-format printing (LFP) models and providing over 100 resellers with insight into market trends and channel strategies.
The vendor explained how Canon responds to new channel strategies for its LFP business, as well as the ins and outs of its new range of LFP products. It also outlined its upcoming Canon Partner Programme, which the firm intends to launch later this year.
"Over the years, we have built a solid foundation with our partners," said Hendrik Verbrugghe, Marketing Director, Canon Middle East. "We wanted to further engage with the robust reseller community in the region in a way that existing and potential channel partners will experience and understand the immense profitable business opportunities that lie ahead with Canon."
"By joining forces with the reseller community, we can further leverage our combined expertise and acknowledged leadership in imaging and business solutions to take advantage of this growth opportunity and create a viable business proposition," Verbrugghe added.
Speaking about the upcoming Canon Partner Programme, Verbrugghe said, "Canon's partners are an extension of the company and, as such, are provided with an equal level of support. Canon Middle East understands what its partners want to achieve for their business: namely profitability and supplier support through training.
"The upcoming Canon Partner Programme demonstrates the heavy investment we are putting into channel development."
In terms of new products, resellers were treated to a glimpse at Canon's new products from the imagePROGRAF range, which are aimed at realising untapped potential in the graphics and computer-aided design (CAD) industry.
"Canon's environment-friendly LFP range can save businesses money, produce high quality outputs at very high speeds and provide the best total cost of ownership for customers," said Verbrugghe. "Building on our strong heritage and expertise in the sector, Canon has – and will continue to be – committed to the large-format printing market in the Middle East."