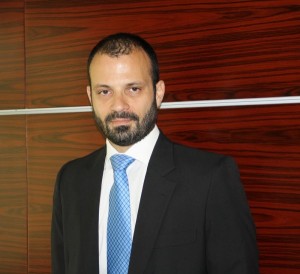 Cisco Systems along with Logicom Distribution, the official distributor for its cloud managed portfolio – Cisco Meraki, formally launched the brand into the region at the kick-off event held yesterday. Over 300 attendees, which included partners and end users, were also treated to several live demos of the brand's product portfolio at the half-day event at Burj Al Arab in Dubai.
Presenting on the theme, 'Enabling Internet of Everything', Den Sullivan, Director, Operations Sales, EMEA Emerging A/P MISC, UAE, Cisco Systems, said, "It is a pleasure to launch Meraki in the region with Logicom. The network is the centre of everything and today we are connecting so many things. Organisations need to be ready to interact and manage with these devices in a secure manner. Meraki is about bringing together mega trends in the market such as mobility, cloud, analytics and security."
Logicom's Nicholas Argyrides, Group Director of Sales and Marketing, Distribution, discussed cloud networking trends and why it should be the next stop for businesses. Commenting on the channel strategies in place for the brand, he said, "Following the remarkable success of the Dubai event, we are currently preparing an identical one for our channels partners and clients in Saudi Arabia. In the near future, we are piloting a number of loyalty programmes and awareness campaigns in the region. We have also been working closely with Cisco Meraki to ensure seamless logistics of getting the products into the Middle East, which is a traditionally demanding region to import such products, especially wireless devices.
"In a nutshell, Cisco Meraki is all about network management. It simplifies the problem of a growing network, which has, historically, been one of the most complex challenges for IT administrators. All this manageability can be also executed via the web (essentially via the cloud) at the most competitive of costs, always with the Cisco Meraki quality stamp," he adds.
Attendees also had an opportunity to discuss and clarify queries with Meraki dedicated personnel, making it an interactive session.
Argyrides added, "I believe the attendance of the event speaks for itself. Our channel partners are thirsty for Cisco-Meraki, the feedback we have received is that they've been waiting for this for a while now. We are all very excited with the re-introduction of Meraki under the Cisco product-family and I am confident that another success story is in the making."
The Cisco Meraki portfolio includes full end-to-end cloud managed edge, branch, and campus networking solutions. According to the company, the portfolio gives lean IT teams robust enterprise features as well as complete visibility and control.
For tweets from the event: #LogicomMeraki